William Farren - Overview
William Farren - from flimsy biplanes to the mighty Vulcan.
Sir William was one of the great pioneers of British aviation. His life spanned the history of flight from the experimental, rickety biplanes of World War 1 through to the mighty Vulcan jet bomber. One of a handful of early pioneers of flight, although ultimately knighted for his achievements, he seems to have become a largely unsung hero of flight.
It seems fitting today, in 2015, the year that the last airworthy Vulcan bomber took to the skies all over Britain for its final flight, for Farren's story to be told, along with images and information about this great pioneer of aviation. It is unlikely that the Vulcan bomber would have ever made its first flight without the skill, determination and diplomacy of Sir William Farren.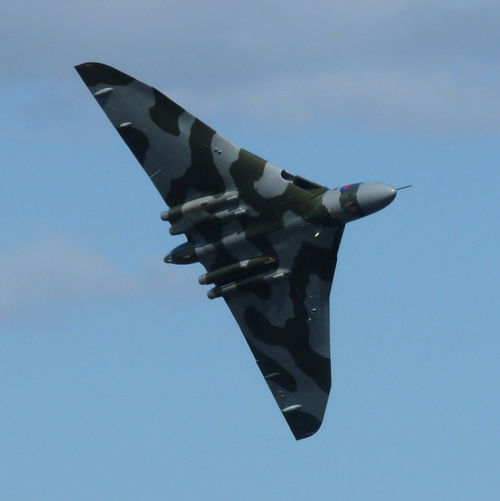 William Farren - The Vulcan Years (including footage of the last flying Vulcan filmed in 2014).
Sir William is part of my family history, not as a blood relative in the Hooke family tree, but because he married my great Aunt Mildred Hooke late in life. The marriage took place shortly after the death (Jan-Mar 1963) of his first wife, Carol, with whom he had one child, Helen (Granfield). It seems that Mildred had been a friend of both William and his first wife from c1911 when they were at Cambridge together.
A couple of years after their marriage (October 1963) Sir William became ill and Mildred nursed him faithfully until his death in August 1970. I never met him but at some point when my Aunt was clearing out junk she let me have a wooden box of bolts and bits that I have kept ever since and used to store my own bolts, nuts and washers. In amongst the junk were various items of interest to me including his nameplate taken from the door of his office when he served as Director of the Farnborough Royal Aircraft Establishment, during WW2.
William & Carol's daughter, Helen Mary (known as Mary), married Stanley Granfield later in life, in 1970, around the time of Sir William's death. Sadly, Stanley himself died in 1973 aged 71, followed by Mary in 1980, aged 61.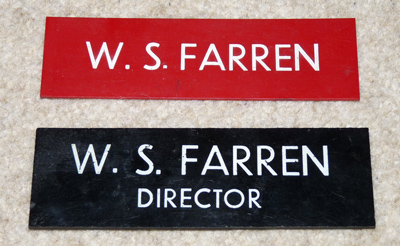 The full text of a Biographical Memoir of Sir William, written by Sir George P Thomson (Nobel Prize Phycisist and lifelong friend and colleague of Farren) can be read here. Biographical Memoirs of Fellows of The Royal Society Volume 17, November 1971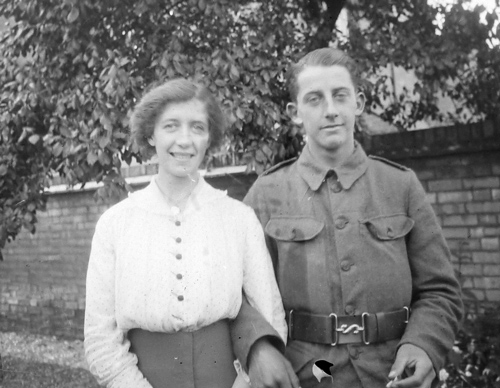 Born in 1892, the trajectory of William's life was established at an early age. While his father tried to encourage him to become an ornithologist his mother supported him in his determination to become an engineer and by the age of 14 he had his own workshop. He quickly became a proficient craftsman. In 1910 he earned a scholarship to Trinity College, Cambridge where he obtained a First Class degree in both Maths and Mechanical Sciences. In 1915, aged 23, he was appointed Head of the Aerodynamics Department at Fanborough, a new research factory, designing and building aeroplanes to support the war effort.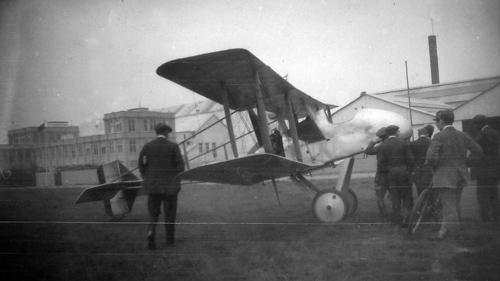 PHOTO left: One of Farren's own photos of "The Factory", taken in 1915.
PHOTO right: Gladys & Ralph Warrington - sister and brother of William's fist wife, Carol.
William Farren - 1914-18 Click the link to see more of Farren's photos of the war years at Farnborough, how he learnt to fly in 1916, and the elite company of men he worked with.
William Farren - The Flying Boat Click the link to find out all about the flying boat, CE1, that Farren designed, built and flew, all in the space of 6 months!
William Farren - The Scientist Pilots Click the link to find out about Farren's role in the creation of the "test pilot", combining the roles of skilful pilot and scientific engineer. (Source: Constance Babington Smith's book: Testing Time, Cassell, London 1961)
In 1920 he began lecturing in engineering and aeronautics at Cambridge University. He became part of a research team studying airflow over wings, with special reference to stalls. Tanks filled with water were used for this research. Farren, as a great engineer and a brilliant mathematician, then used his skills to design and build the first wind tunnel for Cambridge.
Between the war years it seems that he did little flying but concentrated on research and lecturing, creating striking experiments which were a memorable experience for his abler students.
In 1937 he returned to Farnborough where he became its first Director in 1941 and where he made a very significant contribution to the war effort. For more about his flying exploits, his part in the development of the jet engine, some memories of Farren from Britain's greatest ever pilot, Captain Eric "Winkle" Brown and what Churchill summoned Farren to London to do in 1945, click the links below:
William Farren - Background & Early Years
William Farren - Between the Wars
William Farren - The Farren Mission