Mildred Hooke - the Head Teacher
Mildred Hooke - the Head Teacher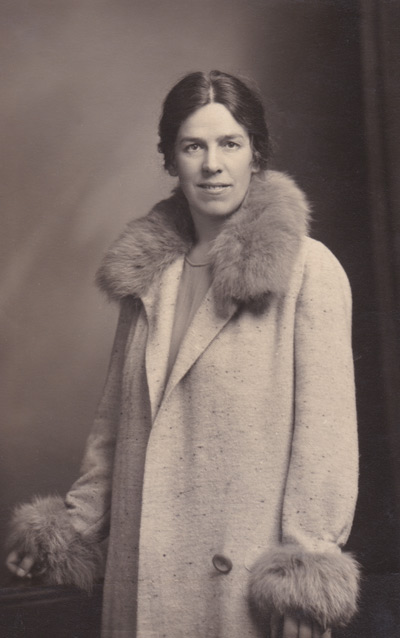 In May 1927 my Great Aunt Mildred Hooke was appointed to her second and what turned out to be her final teaching post as Head Mistress of Bradford Grammar School for Girls. She faced an enormous challenge, taking the reins of the school on the retirement of a much-loved Head, Miss Margaret Roberts, who had led the school for 33 years and been a pioneer in higher education for girls. Miss Hooke went on to serve as an ever-increasingly loved and respected Head Mistress for 28 years until her retirement in 1955.
Just two years into her headship a brilliant pupil, Barbara Betts, was holding the girls in thrall to her fiery and passionate oratory. Miss Hooke appointed Barbara as Head Girl in 1929, Read more about Mildred and Barbara here.
Click here to see a Speech Day photograph from Mildred's early years as Head Mistress.
Mildred Hooke arrived at a time when there was a pressing need for the school to move to new premises. The Governors had already launched a Building Fund shortly after the Jubilee in 1925. As Kathleen Busfield wrote 25 years later,
"Girls, staff, parents and friends played a noble part, but perhaps the heaviest burden of all fell upon the headmistress.The planning of the building, the arrangement of the classrooms, laboratories, kitchens and so on meant constant activity and anxiety, and Miss Hooke's share assumed greater proportions as the new school became a near reality.
She was in daily conference with the architect, Mr Eric Morley, and together they visited schools in many parts of the country, noting an idea here and another there that they incorporated in their plans... The result, as every visitor can see, was a splendid memorial to labour ungrudgingly given. The months preceding the removal were a nightmare, but when everything had been done it was in Miss Hooke's own words, worth every moment of her efforts."
Mildred described those nine years leading up to the opening of the new school like this:
"When I became head mistress in 1927, we worked tremendously hard to raise money for a new building. Parents and Old Girls did magnificent work.
While funds were being collected we had to move unexpectedly. An offer was made to buy the whole of the site we then occupied on condition that half the site was vacated at once. So off we went to a house in Eldon Place, where we spent two years, in cramped premises, and harassed by the noise of building operations nearby. These were two of the most strenuous years in our history. In spite of the distractions and the lack of space for study, the school achieved during this time at one of its greatest successes - the award of five open scholarships in one year. Mr and Mrs James Morrish, our caretakers, gallantly gave up all but two of their own rooms to ease our space problems.
What a relief it was to be installed at Lady Royd in 1936, in peace and privacy, and with plenty of room for recreation! It was an unforgettable day when the Princess Royal officially opened the school in 1936."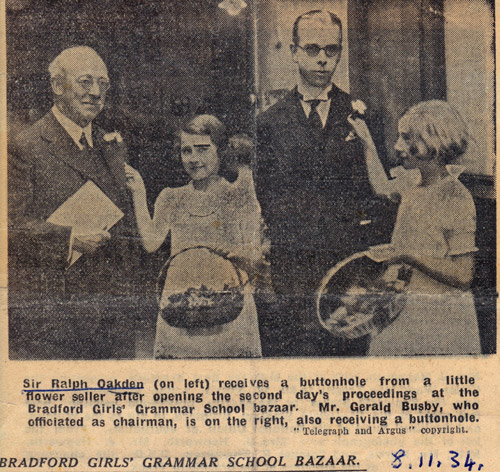 Fundraising was a significant challenge for Mildred. A Bazaar held in November 1934 raised £2,316. Mildred herself contributed to this by purchasing a water-colour, painted and kindly donated by Phyllis Jayes, an "old girl".The occasion was made all the more prestigious with the presence of Sir Ralph Oakden to open proceedings. Sir Ralph had a distinguished record of public service in India and was now related to Mildred through the marriage of her brother Cyril to one of his daughters, Ella Marion just a few years earlier. Newspaper Reports. (click on the image to enlarge)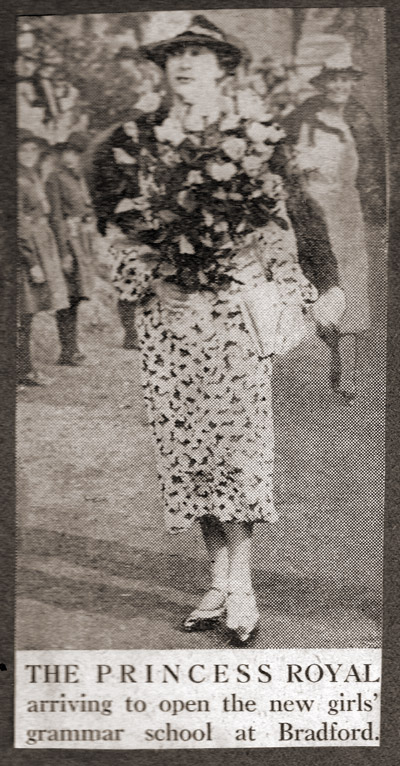 Bradford Girls' Grammar School opening.
The new school was opened by The Princess Royal in 1936. To see some newspaper reports and photos of this very notable event, click here. This is the Programme for the day.
The War Years
Even after the opening it wasn't all plain sailing for Mildred and the school, when war broke out in 1939. Mildred said,
"There was another upheaval three years later, when we were evacuated to Settle, but six months later we returned to Lady Royd."
Kathleen Busfield provides more information of this evacuation experience,
"The Bradford Girls' Grammar School was in the peculiar position of being both an evacuation and a reception centre. As it was just two miles from the city centre it was at first decided that some of the girls should go to Settle, and for several months Miss Hooke spent part of every week in Settle and part in Bradford. Then when the authorities agreed that the girls should return, they found much of their accommodation occupied by girls from other Bradford schools. A happy compromise was made and the sharing went on as smoothly as possible."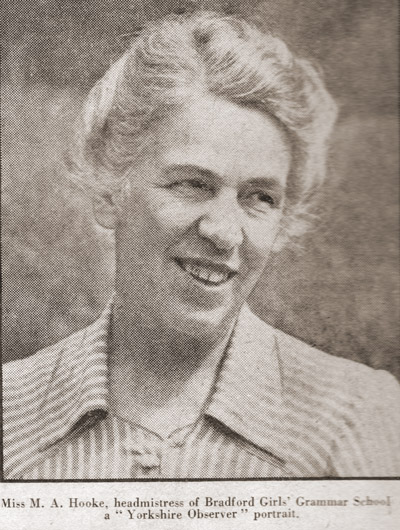 75th Anniversary
1950 saw the 75th anniversary of the school and this picture of Mildred (right) was published in the Bradford press, along with an article which you can read here. Click twice for full screen viewing. By this time she was also a JP.
Silver Jubilee
Two years later in 1952 Mildred Hooke celebrated her Silver Jubilee as Head Mistress. Click to read this article published in the press. Below is the photo to commemorate the occasion.
Next: Mildred Hooke - OBE & Retirement