George A Hooke Letters 1913 October - November
These next letters from George Archer Hooke to his daughter Trixie commence on October 1913, just after she has returned to Cambridge University to study after the long summer break back with her family in Upper Tooting, London.
9th Oct 1913
Dear Trixie
Here is your cheque. What beggars we are to forget. I was sorry not to be in at the last to help you in getting off, but I hear you had plenty of friends round you. I hope the bike will keep all right and that you will find a good repairing place if you want any cleaning or adjustiing. There is some consolation about an old bike, - you have no anxiety about damage or it being stolen.
Mildred's address is 13 Wheeleys Road, Edgbaston (Photo: 2016)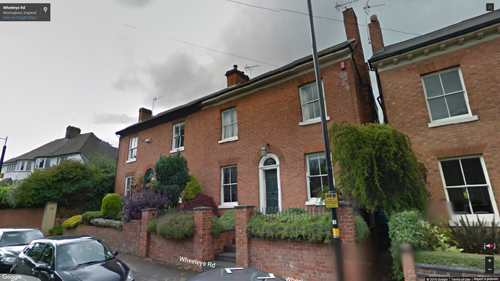 13 you will remember as a lucky number and Wheeleys by your bike , which is Wheelly. After this you will be glad to be at Cambridge, - or I shall that I may escape punishment.
If you are anything like Mildred we shall soon be having to send off parcels of books and garments that you left behind. You had better tell her and then I shall be glad she is at Birmingham.
Your mother missed you very much to-day and I expect several of us will miss you to-morrow morning.
with fondest love
Your Pa
GeoaHooke
12th Oct 1913
Dear Trixie
There is a great gap. We miss our big girl, but we hope she is in the midst of bright scenes and pleasant companions. She is a 2nd year and will do all she can to make the newcomers feel at home.
I suppose you will continue a member of the Fire Brigade.
We shall like to hear about your meetings, - even if there is only a single thought of three lines from each.
Mrs Evans is anxious about Hilda and even contemplates recalling her from Girton if anything goes wrong with health. Do you think Cambridge is unhealthy? You will have to learn the elements of the science of health, and they are all in the Bible because human nature has always been much the same.
Thanks for your postcards. We were glad to know the cheque was safe.
I see you have left Dynamics of a Particle. Does that mean you leave Maths entirely to take up Science? If so, will you want new books? We shall like to know who you coach with.
Have you got piercer and cord and do you intend to keep your work systematically so that you can use it to best advantage? Don't be bustled into leaving it unfinished. Date it and note page of Text Book so that you can find its source quickly at time of revision. But if you can thoroughly master every point as you go it is best.
Have you a bank book or would you prefer Postal Orders? Let me know as soon as you need more money.In any case you shall have more within a fortnight.
Francie must write in the week to tell you about her trip to the Promenade Concert. You know she is full up on Sunday.
The Church was very full this evening for the Harvest Festival, and Mr Phillips from St Paul's took a text he did not understand - "The sun falls alike on the just & unjust" He said it was a mystery. As a matter of fact, what is one man's meat is another man's poison. The sun only benefits the good man. It scorches up the wicked. It is the same with the cold! Ergo, be as good as you can. But there you could not be gooder than you are & I could not have more of my Dearest love than you have now.
Yr very affectionate father
GeoaHooke
19th Oct 1913
Dear Trixie
I have written a long letter to MIldred and asked her to pass it on to you with one from your mother. We are all fairly well although your mother and Ella have had slight colds.
We shall want to know something of your friends as well as of yourself in your letters now. I have other letters to write so please excuse me closing so soon.
With very dearest love
I remain
Yr very affectionate pa
GeoaHooke
Aggie's birthday 20th Oct
(This important fact is repeated at the top of the next letter written the same day to MIldred! It also confirms what I had guessed that Aggie is one of George's two sisters, Alice Elizabeth Hooke, a spinster who was 51 on this birthday and lived to the age of 80. She was a chess player of great renown as shown here.)
The next letter refers to a disaster that took place that week, Britain's worst ever pit disaster - the Senghenydd colliery disaster, also known as the Senghenydd explosion which occurred at the Universal Colliery in Senghenydd, near Caerphilly, Glamorgan, Wales, on 14 October 1913. The explosion, which killed 439 miners and a rescuer, is still the worst mining accident in the United Kingdom. Universal Colliery, located on the South Wales Coalfield, produced steam coal which was much in demand. Some of the region's coal seams contained high quantities of firedamp, a highly explosive gas consisting of methane and hydrogen, and were prone to explosions.
19th Oct 1913
Dear Mildred
It has been a remarkable week for events outside and our personal history. The beautiiful weather and the number of disasters make one think our persons of little importance. Yet it is strange that we think much more of the 600 lives lost in peace than we did of the thousands lost recently in the Balkan War or of the thousands lost by disease that is the result of sin and neglect.
Of ourselves your mother has already written.
We had a pleasant evening on Monday with Buff, Annie and Aggie playing Auction Bridge. Mr Balding and Mr Luckhurst came in about 8pm.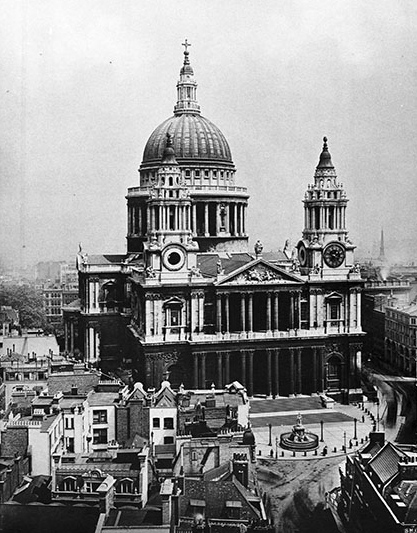 Tuesday, I was at St Paul's Cathedral (Photo - 1896) as Steward at a MIssionary Intercession Service. Wednesday, we went to the Theatre to see "Mary goes first". I had expected something good & although it was interesting and amusing at times, the main plot was disappointing. The jealousies of two rather vulgar women ought not to occupy one's thoughts all one evening. Shakespeare or Dickens would throw such incidents into a play in a subordinate position as a relief from the main thread but would not think them worthy of being the main theme. Mrs Whichello, a wealthy woman had been leader of society in a country town when a man got knighted and his wife was entitled to precedence over Mrs W, who then says as nasty things as she can consistent with her idea of her own dignity. It allows her great latitude and one does not respect either woman. Finally she triumphs over Lady Budsworth, who has done nothing particularly wrong, but finding herself made to look undignified, is thoroughly distressed and cries nearly all through the last scene. And we were there to share the triumph & enjoyment of a nature we despised.
Your mother has told you of our house hunting on Thursday, - of the small room, - of the bad decoration etc. at Gerrard's Cross which made us hopeless. Things were a bit better at Ruislip but not very much. We shall not get as convenient house as the one we have unless I can pay £75 instead of £50. Aggie & Aunt Ria helped us to finish the day with Auction Bridge. Whilst we were playing Miss Goodman came in with tickets for the Promenade Concerts for Friday. There was a good deal of Beethoven and I enjoyed it in a way but I rather missed Wagner. I can appreciate him or Sullivan, or Grieg, - all very different but I require education & concentration to follow and understand Beethoven.
Saturday was occupied with work for the Men's Society, - the magazines, Posters, and Cards for next Sundays Services. Your mother has told you of the Service this afternoon for Freemasons. The idea of Brotherhood is speading and breaks out in many forms. The Nonconformists frankly adopt the name but interpret it very loosely, to mean members of a Society who attend Sunday Afternoon Services. The C.E.M.S have the idea but do not carry it very far. Certainly the Freemasons are more decidely active in brotherly support of their fellow members. That attracts me but I do not know what proportion it bears to its banquets and toggery. I do not want to go in for unnecessary expense but am very reluctant to pass it if it means I am neglecting a duty.
If it is good, why should not women form a similar Society? Hitherto they have refrained as, generally, they have not had control of the purse for charitable purposes. But the idea of mutual help, defence, and support is as important for women as for men.
Will you pass on this letter and your mother's to Trixie to save us writing it all over again.
The enclosure about Oil on the Sea I should like to have back. (MIldred's pencilled note: Will you send it, Trix dear) The great point to my mind is the great effect caused by such a small quantity of oil.
We often think of you and Trixie. We know your lives are very full and you can be surprised that we think health wil be the deciding factor between enjoyment of work and play and being overburdened. Don't overdo it, - be moderate. We shall look for good accounts of you both. Cyril went to see Mr Courtman last evening and did not get back until midnight by which time your mother & I had got very anxious. We could not think he had remained at Mr Courtman's after 11 and we feared some accident.
He is going better, - trying to do his best. This morning he went with Francie to Sunday School, preparatory to taking a class. It will do him good. We have been discussing the Royal Engineers but I am afraid Woolwich is too expensive. He would commence in less than 3 years time & I should have to pay £235 for his 1st year.
With very fondest love
I remain, Yr affectionate father
GeoaHooke
26th Oct 1913
Dear Mildred,
I have written my gossip to Trixie and asked her to send it on.
I am enclosing the account you left for me and a cheque for the amount. If you have any difficulty in getting it cashed, send it back and you shall have Postal Orders. If you pay it into the P.O. Savings Bank you cannot draw on it for at least 10 days. But no doubt you are well provided for much longer than that. If you run short before the end of the term I shallhave no difficulty in lending you what you need.
You will be glad to know I am going to make Francie a dress allowance, - 21/- a month just as a trial. Whether than can include pocket money or not I do not know, - I am afraid not. That will relieve your mother to some extent as well. I cannot however be as liberal as I should like because I feel I ought to make some provision for Ella. Anyhow you will be glad we are entering into a year of plenty even if it is to be followed by a year of pressure. The idea of Woolwich for Cyril is I think out of the question. £235 for one year is a lot and it would have to commence about June 1916 I think before he is 19½. Trixie will have left College but Ella may be there. Even if I could fund that amount & £200 for the next year it would be chancing too much for him to go there as only 15 out of 45 succeed in getting into the Royal Engineers, - the other 30 have to go with the Royal Artillery when they cannot live on their pay.
I think he must go direct from St Pauls into the Intermediate C.S if he can do so well.
We are settling down a bit at the Office but there is much to be done. The arrangements for those immediately following in seniority are not finally approved and until they are we cannot make all the changes desired.
Jones is doing his best, - so am I. It is a case of new brooms, to an extent.
I thknk you saw the "Blue Bird"at the Haymarket and I believe it was by Maurice Maeterlinck , - a Dutchman. Possibly it is the same man writing in the Fortnightly Review about the scientific evidence we have of life after death. He examines it all and shows how worthless it is. Spiritualists bring forward some evidence but it is unconvincing.
Maeterlinck however gives an account of some experiment by a Frenchman named Count Rochas. He has mesmerised people sending their consciousness of the present to sleep and taking back their memories gradually, making them, as it were, live their lives backwards, until they come to a time when they talk as little children. Continuing, he comes to a time when they cannot talk at all. Continuing, he finds a voice and speech is obtained but it is that of an old person, perhaps of the opposite sex to that of the mesmerised subject. Continuing, the voice gets younger and stronger and tells tales perhaps of crimes & other sins.It is suggested this proves re-incarnation. Maeterlinck assumes Count Rochas to be an honest scientific man. It is a remarkable tale & I do not wish to commit myself to any decisive comment. The funny thing is that if it is true and reliable it is the most important thing to my mind in this month's Reviews, yet it is not mentioned in the notices of the articles!
You will be inclined to reject the whole thing because you find the idea of re-incarnation repulsive. I cannot see how you find it so and certainly it offers a satisfactory solution of some difficult problems.
However it is past 10, the others have gone upstairs and I must follow in order to rise early.
with very dearest love
I remain
Yr very affectionate father,
GeoaHooke
BACK - 1913 Apr - June
FORWARD - 1914 Jan - May