Beeston St Mary's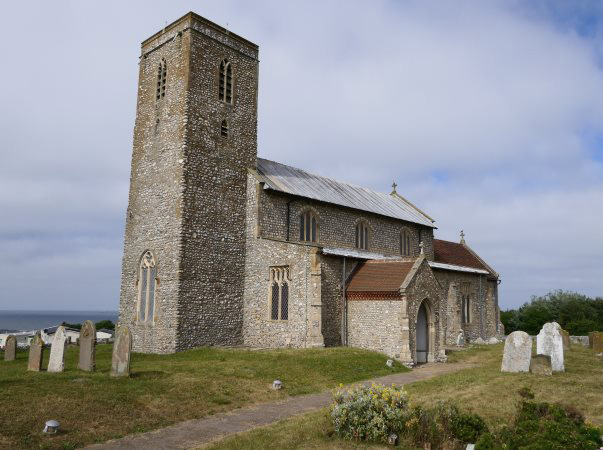 Finding Beeston St Mary's required a little local assistance as it is accessed via the entrance to a Holiday Park. After passing through a narrow bridge and taking a detour up a slight incline the church is then seen in all its ancient glory and the vista opens up to a view of the sea. A search of the gravestones revealed nothing but my grandfather Cyril's notes promised rewards inside the sanctuary. It did not take long to locate a half hidden stone under the organ on the left of the central aisle between the choir stalls.
The full text is as follows: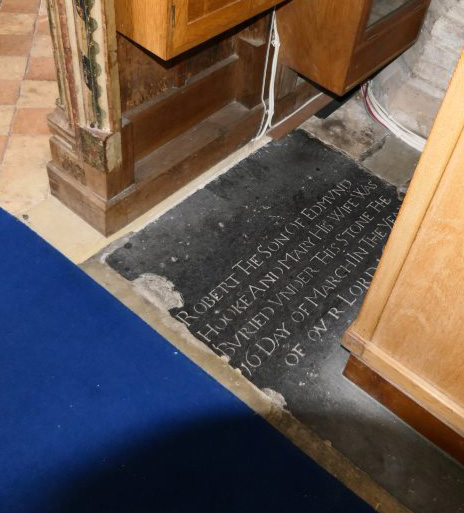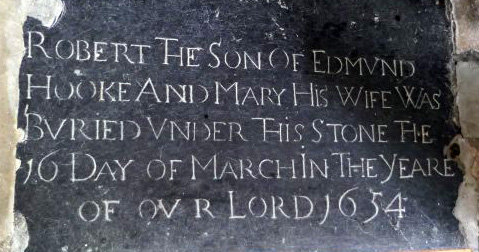 Robert the son of Edmund
Hooke and Mary his wife was
buried under this stone the
16 day of March in the year
of our Lord 1654
Further investigation revealed a small plate in the floor underneath the front row of the choir stalls in memory of another Hook, Thomas; Hooke spelt without the "e".
(To date I have not been able to translate this plate into English)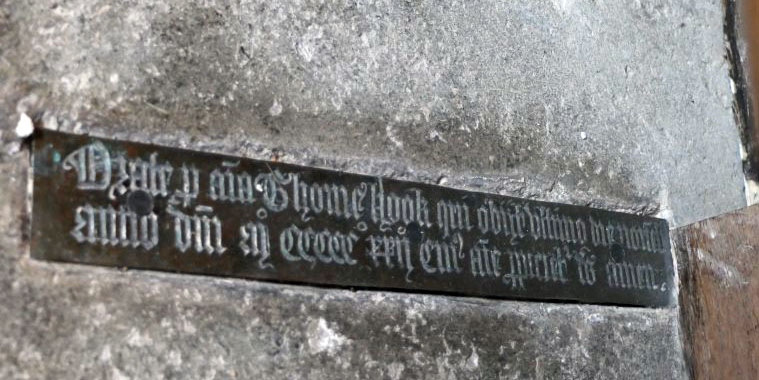 I left a note in the visitors' book about our visit and this led to a further revelation in August.
Here's the story:
On arrving back home in Lancashire I took more time looking through the pages of my grandfather's ancestry research notes. There I discovered more information about the Hookes of Beeston Regis and to my disappointment read about another Hooke stone which was underneath the carpet of the centre aisle! Too late! We had left and returned home; another visit in the next year or so is very unlikely. I studied my photos and sure enough, the edge of another stone was seen just protruding from the edge of the carpet. If only we had taken more time, perhaps it might have been possible to lift the carpet to reveal another Hooke stone. Who knows? It would have to wait. Fortunately for us I only needed to wait a few weeks at which point an email arrived from a kind gentleman of Beeston St Mary's who is a trustee ot the "Edmund Hooke Charity" founded by a certain Edmund Hooke in 1716. Along with the following information was a photo of that hidden stone! (right) The trustee wrote as follows:
Good afternoon Graham and Ruth,
Whilst setting up for a Wine and Cheese event at All Saints I was looking at the visitors book and spotted that you had found the graves of two of your ancestors. I am a Trustee of the Edmund Hooke Charity founded by Edmund Hooke in 1716. He gave £100 in land, the interest from which was for the poor of Beeston Regis. He was twice mayor of Kings Lynn and he lived in Beeston Regis until he died aged 89. His gravestone is in the central aisle of All Saints but covered by a carpet. The Charity has over time sold off the small parcels of land but the capital is now over £100,000 and the Charity is still active and makes suitable grants. I would like to know more about Edmund. Is he on your radar? In your family research have you any details or a portrait? I guess that kings Lynn Council may have one in their archives. Herewith photo of his tombstone.
What a revelation! In fact I had already discovered something of this from Grandfather Cyril's notes from the 60s. Here is the text of correspondence between him and the then Rector of Beeston St Mary's. You will appreciate from Cyril's letter that he too had missed the Edmund Hooke stone which was then covered by a wider carpet than today, as seen in a photo of the Chancel found in my father's records.
The Clinches, Collington Lane East, Bexhill, Sussex. 1st Septr 1960
Dear Sir,
I am writing to ask if you would be so kind as to give me information regarding the Church registers at Beeston on Sea.
I discovered, by examining records in the library at Norwich, that families holding my name were living in Beeston on Sea during the 16th century. By direct descent I have traced my family to Thomas Hooke of Blakeney at Snitterly, who died in 1764, and who left some property in Beeston in his will. As there is no trace of the name in Blakeney, before this Thomas, I think that it is likely that I shall find his forbears in Beeston. I have made a thorough search of the records at Blakeney back to 1538. Last year I visited Beeston, and noticed the small brass (Thomas Hook 1522) in the Chancels of All Saints Church and also the stone nearby to the memory of Robert son of Edmund Hooke and Mary his wife.
I should be very glad to hear if records are available in Beeston on Sea, and how far back they are dated. Would you please say if I may be permitted to examine them? I can assure you that I would exercise the greatest care in handling them. My wife and I have a little experience in reading old documents, and I am a member of the Society of Genealogists. perhaps you would be so kind as to let me know what the charges will be.
Yours faithfully
Col. C G Hooke
My grandfather's file of "pedigree correspondence" (ancestry) shows that Grandpa Cyril had been charged a small fortune in fees to churches and organisations for permission to look at their old records. Sometimes the fees were so high that he had made the choice not to look if the chances of actually finding any information was small! So the following reply from the Rector must have been a great delight to him!
From the Rector of Beeston Regis, The Reverend R. Keble Cheeseright. Tel. West Runton 215
Sea Croft, Church Close, West Runton, Cromer, Norfolk.
5-9-60
Dear Col. Hooke,
Yes indeed I will be very pleased to make my registers available for your examination. The stone of Edmund Hooke under the chancel states that he was a "woolen draper, who was twice Mayor and Justice of the Peace for Kings Lynn in this county. He gave one Hundred Pounds to be laid out for the Poor of this Place and Upper Runtons Fewell and after spending 89 years in piety and charity gently breathed out his soul 20 February 1723"
His Charity is still in operation and produces an annual income of £30 which I have pleasure in distributing just before Christmas each year. So far be it from me to dare to mention any charges for any member of the Hooke family to examine the register! We are indebted to you sir.
If you could let me know the day and possibly time of your visit I will see that the registers which only go back to 1743 are made available for you.
Yours sincerely,
R K Cheeseright
Note from Cyril: Replied 8th Sept. Will come up Oct '60 or Spring '61. Will visit Sheringham and W Runton also. 9am ??? pedigree of the Edmunds of BEESTON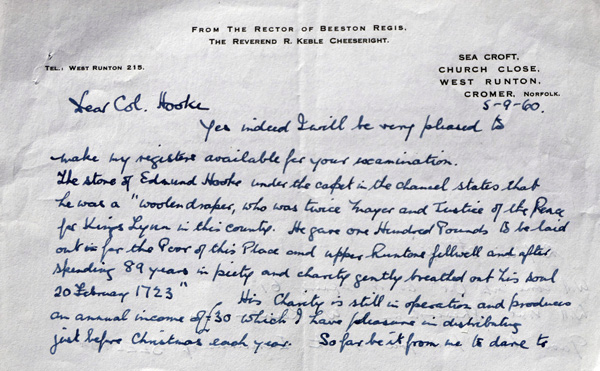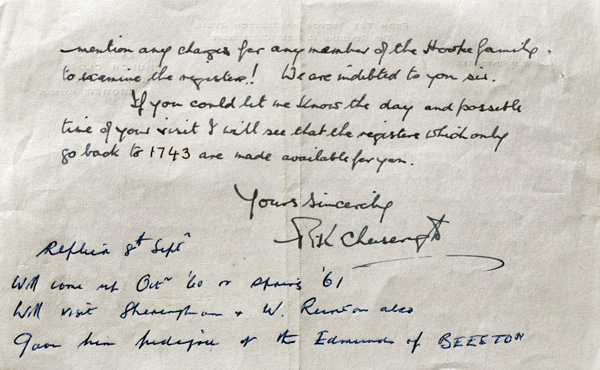 The correspondence shows that Cyril visited the church on Thursday 13th April 1961 but there is little indication of whether it answered his questions. To date, whilst we know that the direct line of Hooke ancestry traces back to Thomas Hooke of Blakeney who owned property at Beeston, we can be nearly certain that he was related to the Hookes of Beeston, including Edmund, but we can't yet place them in the FamilyTree.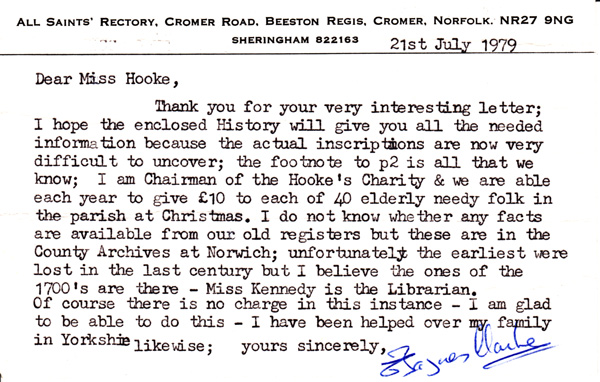 This postcard dated 21st July 1979 adds a little to the amazing story of how a £100 legacy from 300 years ago can continue to relieve poverty in the late 20th century and into the 21st century. The will of Edmund Hooke, a typed transcript (1961) of which can be seen here, shows a list of bequests of varying sums, ending with this one for the poor of Beeston Regis. The card is addressed to Miss Hooke. Grandpa Cyril had died; this is either his wife, my Granny Elaine, or my Great Aunt Ella who had helped my grandparents in their research during the early 1960s.
Beeston St Mary's Photo Album
To be continued