Long Stratton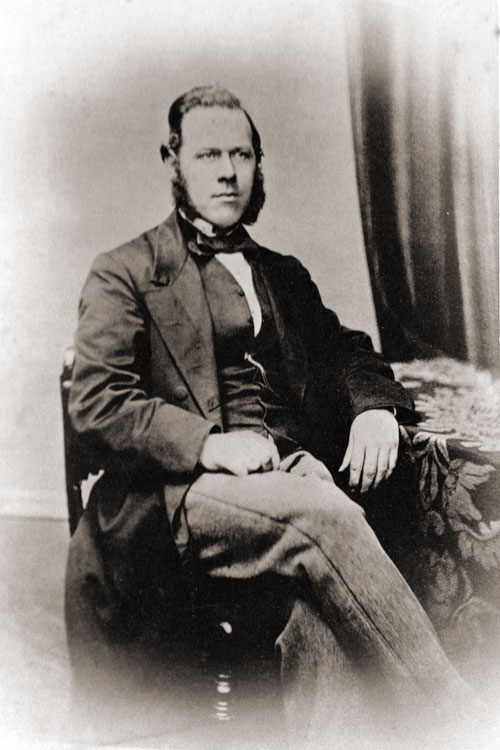 William Hooke
This is my great great grandfather, William Hooke, a police constable in Chelsea when aged 31 in 1857. He was the third of three William Hookes in my direct ancestry. For all of them Long Stratton was a significant place in their lives. I'll come back to this particular William later but for now I will attempt to tell the story of the Hooke family through the 19th century. It's a tale of three Williams and their families.
St Mary's Church, Long Stratton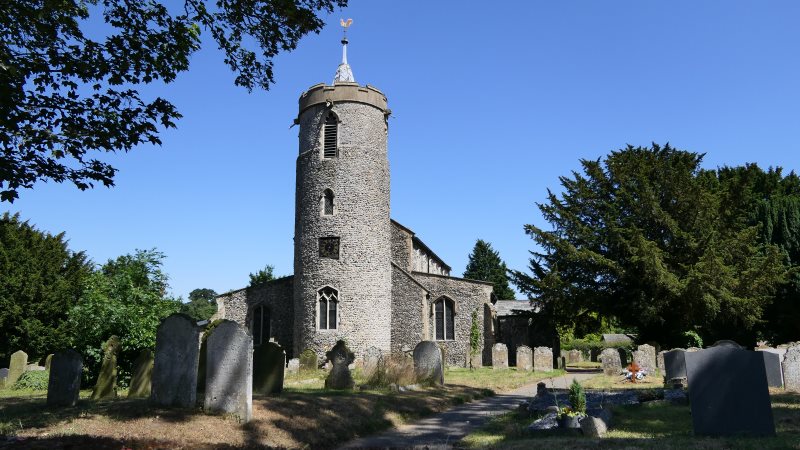 Early in the 19th century the direct line of Hooke ancestors moved away from the Norfolk coast to Long Stratton, a few miles south of Norwich. To conclude our June 2018 rresearch trip, my wife Ruth and I visited St Mary's Church, cited in the family tree, to see what we could find. An initial quick search of the graveyard revealed nothing so we went inside the church where they were running a lunchtime Foodbank. Three gentlemen from the church were very helpful and one of them turned out to have overseen the completion of a graveyard plan just a couple of years previously. It didn't take long to find a certain William Hooke and the location of Hooke graves - see the chart, plan and photos below. (NB There is an error in the plan below as grave 3134 should be shown as Hooke not Hearn)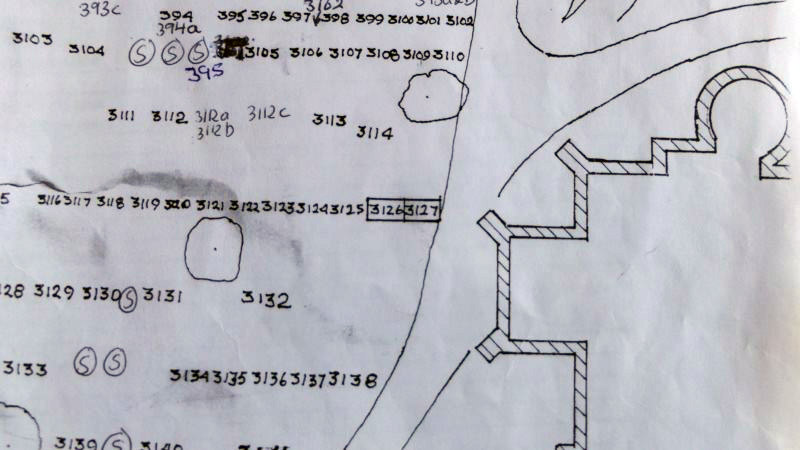 There were three Hooke graves and they were prominently located just outside the main entrance to the church, in the shade of the trees.
Tragedy
Why did the Hookes settle in Long Stratton? The answer to that question can only be speculation but we do have a few facts to go on. The key person in this story is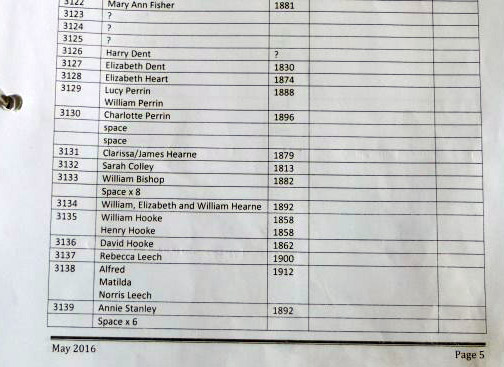 a certain William Hooke, one of many William Hookes, but this William was born in Blakeney in May 1764, fourth child of four sons and one daughter born to Thomas & Elizabeth. It appears that this William first moved away from Blakeney as, at the age of 24, he married Mary Bradwell, of Beccles, some 50 miles from Blakeney to the south east. The wedding took place on 16th March 1789 at an impressive city centre church in Cambridge, St Andrews the Great. Were the Bradwell family influential people? Had they moved from Beccles to Cambridge? Where did William and his new bride, Mary, settle? The answer to the latter question would seem to be Cley-on-Sea, just a mile from William's birthplace of Blakeney because it was there that their first child was born. What is also apparent is that, whilst Mary was very quick to conceive, their first son David Bradwell Hooke being born in December 1789, thereafter it is likely that she had difficulty bearing children. It was over three years before her second child was born, named William after his dad. Sadly, this little son died in April 1795, just short of his seond birthday. No doubt the couple wanted more children, but worse was to come. On August 15th 1797, Mary bore a little girl but, tragically, both mother and child died following childbirth and were buried back in Mary's home parish of Beccles. The little girl was named Mary Anne. I haven't visited Beccles Churchyard yet but have a note in the family archives which gives the inscription as follows: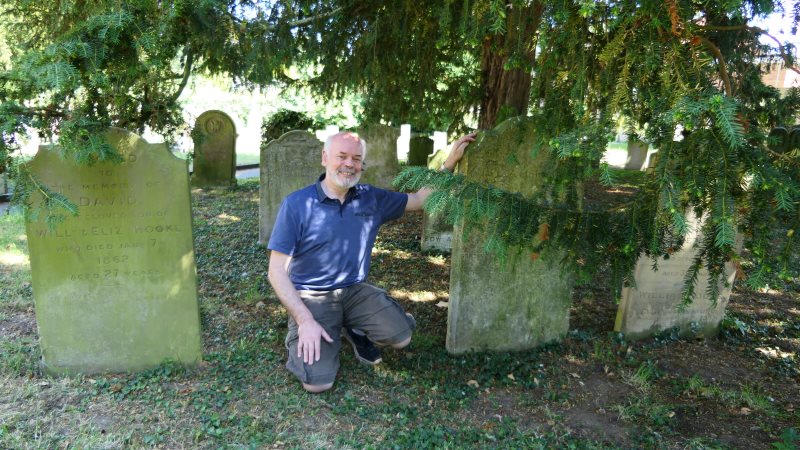 MARY THE WIFE OF WILLIAM HOOKE who departed this life 11th Sept 1797 aged 29 years also MARY ANN their daughter who died an infant.
Husband William (let's call him William the first), with his 7 year old son David, got on with life quickly, and less than a year later on 29th July 1798, he had found and married a second Beccles girl, Esther Creed. Together, in Beccles, over the next three years, three daughters were born to them,:Martha, Elizabeth Pleasance and Mary Ann, and finally in 1806, the next key person in the story, another William Hooke (William the second), my great, great, great, grandfather. Martha, Elizabeth and Mary Ann, known as Polly, never married and became known in old age as the three old maids of Beccles! At various times they were straw bonnet makers, toy dealers and shopkeepers.
William the second was only 18 when he found a wife, Elizabeth Barnes, a young lady, a draper, at least six and possibly twelve years older and hailing from Forncett St Peter, just a couple of miles east of Long Stratton. It was a Christmas wedding on 30th December 1824 and it took place at Tacolneston, a couple of miles north west of Forncett St Peter. There were three witnesses, one of whom was a certain Elizabeth Archer. (The Archer family had some connection to the Hookes which I have yet to clarify, but it would seem that George Archer Hooke was so named because of this connection.) Despite the age difference Elizabeth Hooke was to outlive William by 16 years, living to the ripe old age of possibly 80, although her gravestone states that she was 76! (It is possible that her birth date was incorrect and she may have been born in 1798 rather than 1794)
But I'm jumping ahead! William and Elizabeth had a fine family and from this point on we have quite a lot of historical information, and even a photograph.They began with four sons. William - the William with whose photograph I began this article, (let's call him William the third, 1826), Robert Pleasaunce (1829), Henry (1831) and David (1834). Then they had a little girl, Elizabeth (1836) and finally another son, Samuel (1839) who went on to become the Reverend Samuel Hooke.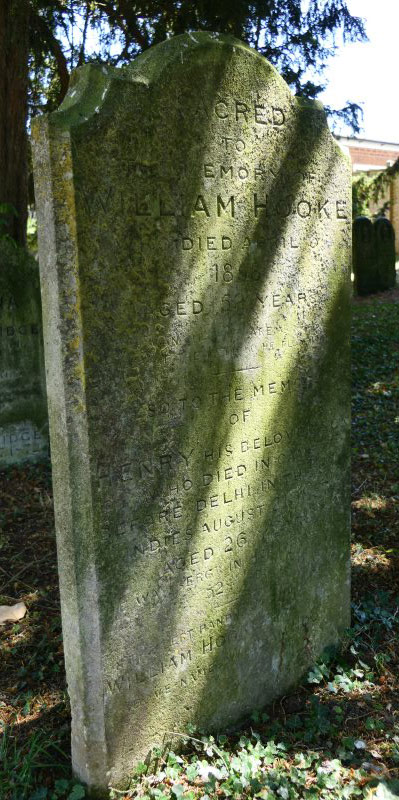 Sadly, life did not turn out to be kind to this family. Father, William (the second) died relatively young, aged only 52 in 1858. He is commemorated in the central stone of the three, along with his third son, Henry, who died in India aged only 26. The full text of this stone is a follows:
Sacred to the memory of William Hooke who died April 5th 1858 aged 52 years. "As for man his days are as grass, as a flower of the field so he flourisheth." Also to the memory of Henry, his beloved son who died in camp before Delhi in the East India August 21st 1857 aged 26 years. He was Sergeant in His Majesty's 52nd Regiment. On the left hand lieth the remains of William Hooke father of the above named William Hooke.
The final lines of this stone are now quite difficult to read so I am indebted to George Archer Hooke who recorded these inscriptions in the 1920s. So here is evidence that William the first was buried here alongside his son William the second and his grandson, Henry.
The tragic loss of Henry was to be compounded just a few years later with the death of his younger brother David, aged just 27. His gravestone is to the left of the central stone and reads as follows: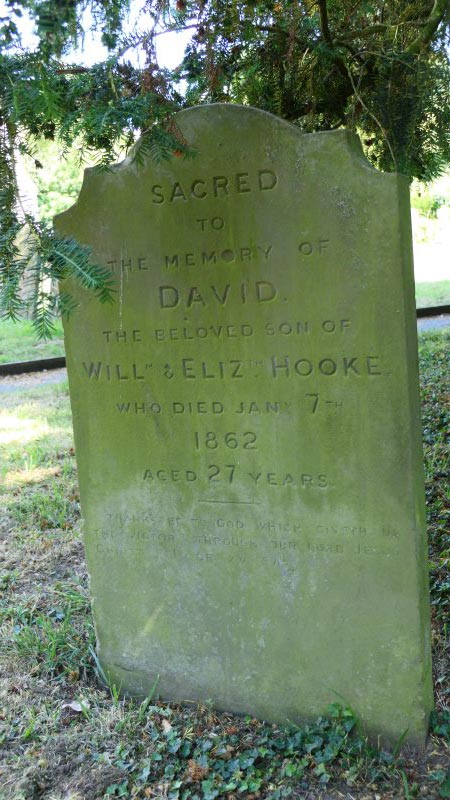 Sacred to the memory of David the beloved son of William & Elizabeth Hooke who died Jan 7th 1862 aged 27 years. "Thanks be to God which giveth us the victory thro' our Lord Jesus Christ" 1 Cor XV-57.
That's a great statement of faith and trust from the bereaved Elizabeth, her family of seven now reduced to four. The chosen Hooke inscriptions remind us of the fragility of life but also of the promise of life beyond the grave. The verse on David's grave comes from the apostle Paul's great declarations about resurrection when, in the previous verses, he has confidently proclaimed: "Where, O Death, is your victory? Where, O Death, is your sting?" Tha family's faith was very much in the God of eternity, who through Christ has conquered death for us.
George Archer Hooke ,in the 1920s, and Cyril Hooke, in the 1960s, both did much research about the Hookes' movements. George and his generation were all Londoners and they understood that the Hooke family hailed from Beccles, home to both the tragic Mary Hooke (nee Bradwell) and to Esther Hooke (nee Creed) and her daughters, the "three old maids of Beccles". Cyril's research went back further, as we have seen, showing that the Hookes previously came from the north coast of Norfolk, in Blakeney and Beeston.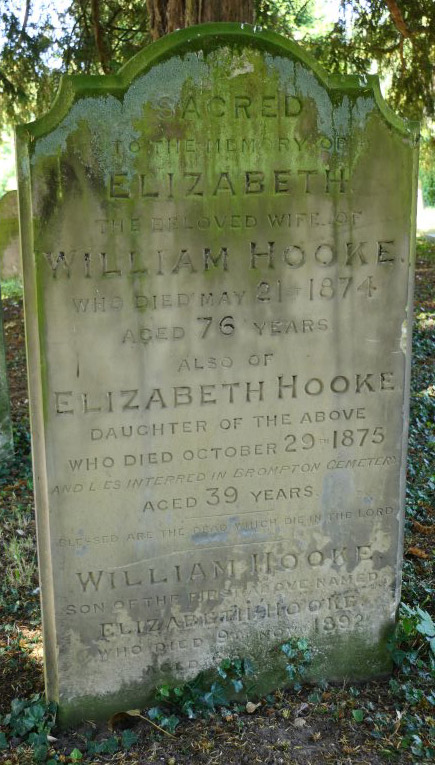 But both George and Cyril came to the conclusion that the remainder of the next generation of Hookes moved to London around about 1850. William (the third) became one of London's new "Peelers" (the Metropolitan Force of new Police Officers founded by Sir Robert Peel). He married Harriett Sanders on August 27th 1850 in London. They lived at 22 Paultons Square, Chelsea. Robert Pleasaunce also settled in London, as evidenced by a letter from Brompton Cemetery, a centuy later in 1943, responding to an enquiry from Trixie Hooke about a Hooke grave vested in the name of Robert Pleasaunce Hooke which was, by then, full. Daughter Elizabeth must have moved too as she was buried in Brompton Cemetery, aged only 39, but is also mentioned in the third of the Hooke graves in Long Stratton. Only the Rev Samuel Hooke and his mother Elizabeth remained in East Anglia. Rev Samuel Hooke died after three years of angina pectoris at the Rectory in Clopton, Suffolk in 1906 and we have the original of his will. More about Rev Samuel here.
The third and final grave is that of Elizabeth and it reads as follows:
Sacred to the memory of Elizabeth, the beloved wife of William Hooke who died May 21st 1874 aged 76 years. Also of Elizabeth Hooke, daughter of the above who died October 29th 1875 and lies interred in Brompton Cemetery. Aged 39 years. "Blessed are the dead which die in the Lord."
For more about William (the third), Elizabeth his sister and the Brompton Cemetery graves click this link.
Click on each funeral card to enlarge
Go to the story of the third William: William & Harriett Hooke
Or go back to: Beeston St Mary's
Or: Upper Sheringham & Blakeney
Or: Rev Samuel Hooke