War Diary Chapter 3
Cyril Hooke War Diary Chapter 3
Chapter III
Events following the Arras Battle
After the four batteries had taken up position on the downs, A/123 were the most fortunate, for the others received such attention from the enemy that they continually had to move. The 37th Divisional Infantry were distinguishing themselves at Manchy le Preux, (where a 37th Divisional memorial stands; erected in 1921) and at this place the cavalry had fought magnificently but against impossible circumstances. The night before the Arras battle saw the cavalry, with their horses, taking refuge in shell holes behind (west of) Beaurains. Losing many from shell fire and exposure before their time came must have been very demoralising, but advancing over barbed wire in shell holes in the face of heavy machine gun fire must have been poor fun. Apparently they completed a gallop advance, and handing their horses to horse holders became infantry. I am told that the German shooting at their retiring horses was very bad, nevertheless they suffered a great deal.
Everything possible was done to press the attack, but the artillery warning (previous bombardment) had given the Bosch time to prepare and the fighting was heavy, very costly and seemed without proportionate result.
Note: Experience of war made clear to both commands the fact that, with sufficient concentration in preparation, either side could make advances to a certain depth, but that these did not normally pay, because the ground taken was always made so exceedingly uncomfortable that payment was extracted in full!
It was in one of these later attacks, an attempt to strengthen our hold on the Hindenburg line near Fontain lez Croiselles, that A Battery fired from 4000 to 6000 rounds in one day. In the morning the attack was supported, but running short of bombs the infantry had to retire.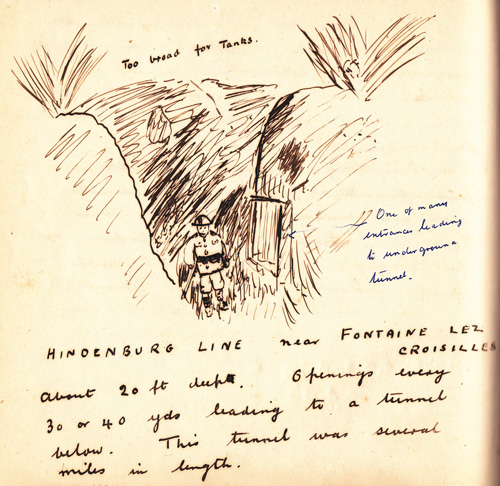 The evening saw a fresh attack, which progressed but little and a heavy counter-attack reached our trenches.During one of my tours in the Hindenburg line I was keeping a lookout for a counter-attack expected further north, where our infantry were endeavouring to take Wancourt Tower. Here I met Luxon, and five minutes later, when taking refuge in one of the passages, in the Hindenburg line, leading downwards we were rolled down together in a mass of earth projected by a bursting shell at the top. One of my signallers Gr Martin was 2 yards away from the burst, but did not duck. He was a man whom nothing seemed to frighten, this was put down to lack of intelligence. When asked why he didn't duck he (from Lancashire) said, "Aa couldn't lave ma talaphone". At this period the mud was terrible in the Hindenburg line and it was frequently impossible to distinguish a Highlander from an Englishman.
I remember watching a Scottish regiment marching out with pipes playing; a woolly bear (air burst high explosive, black) causing one casualty made me wonder if they were heard.
I raise my hat to the regiments who had to bear the strain of this fighting. Bombing down the Hindenburg line was a costly and terrible business, the winding of the trenches going up and down hills cause one to lose all sense of direction and machine guns fired from everywhere.
Historical Information: Wancourt was captured by Commonwealth troops on 12 April 1917, and Wancourt Tower was taken by the 50th (Northumbrian) Division on the 13th. At the end of March 1918, the village and its neighbourhood were lost during the German advance, but they were recovered by the Canadian Corps on the following 26 August. Hibers Trench Cemetery was made in April 1917, by the 50th Division Burial Officer and used until the following October. Three Canadian graves were added in August and September 1918, and two further burials in the summer of 1919. Hibers Trench Cemetery contains 136 burials and commemorations of the First World War. Six of the burials are unidentified and there are special memorials to two casualties who are known to be buried among them. The cemetery was designed by G H Goldsmith.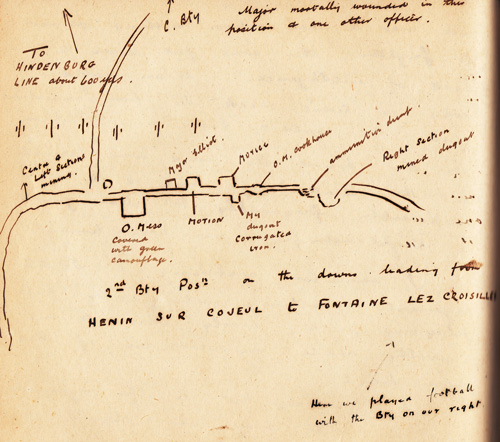 A typical scene was a barricade and five figures in khaki lying there with ghastly wounds. I remember one with his head blown off above the eyes.
Farmer's Lane was one of our O.P's and two Germans lay on the side of the trench for some weeks. Eventually they were semi-covered, their boots and friendly maggots being the only visible remains, though we had other indication of their presence.
The Hindenburg front line was not nearly as strong as the support line, but the trenches were good and pillboxes were frequent. One day, when making my way to the Hindenburg support line, I came on German dead in the front line so thick (half buried and looking at me through the mud) that I had to clamber along the side, anxious not to step on a dead man's face. The wire in front of this line was about 100 yards deep and only passable where tanks had crossed.
Note: Trench mortar 30 feet down in reinforced concrete pit as seen in the Hindenburg frontline.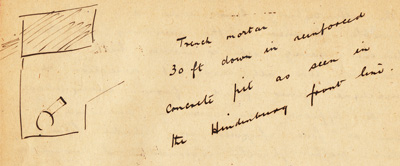 The attacks in this sector continued, enormous casualties being sustained, without proportionate result. In the middle of a 'show' I was sent on leave May 20th 1917. I remember being so dumbfounded that I refused to believe it. Later on I began to think about leave, but I can honestly say that from 16th December 1916 to 20th May 1917 the idea had scarcely occurred to me.
I wondered back amongst heavy guns and wireless installations; as we were in front, an enormous army had grown behind us during March and April and this was only my second glimpse of it. Once I had gone to the wagon line in Bovy Becquerelle and seen our horses changed from miserable bony brutes into fat, sleek and happy creatures. This time I discovered Brigade H.Q., but though I had my leave pass for England in my hand I was unable to leave the dugout owing to the attention of an H.V. (high velocity) gun. Eventually I decided to go and had gone about 150 yards when the ominous sound - I knew so well - of a shell arriving greeted my listening ear. I was well on my face for it pitched 20 yards away, but I got nothing but stones. I ran like ---- -----, (blanks) lorry hopped to Arras and after visiting a hotel for food and an E.F.C. (Expeditionary Force Canteen) for a Dunhill, tobacco and some De Reszkes you can next picture Venning and me, with legs dangling out of a truck which was taking us to Abbeville, watching the guns flashing from afar in the delightful spring evening.
Photo: Wikimedia (Public Domain)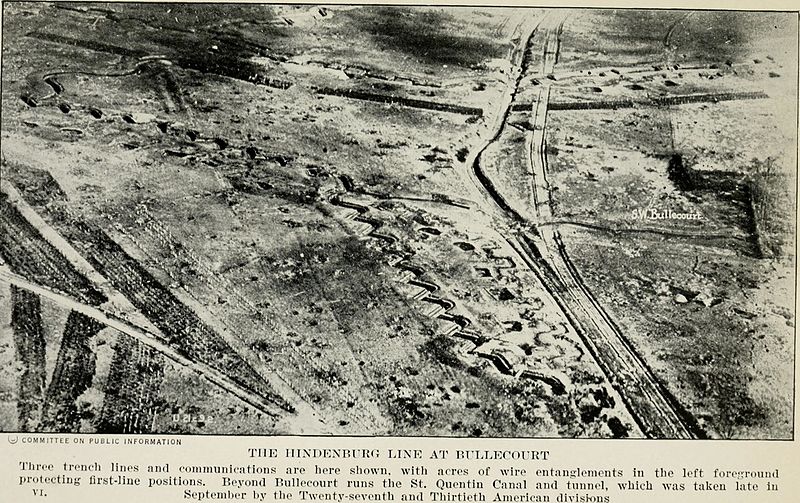 Continued:
Return: