War Diary Chapter 1
It's not clear exactly when Cyril began to write about his experiences of the First World War. It was certainly written in stages; the initial pages of this War Diary appear to have been written quite early on, and from under the Indian sun, as mentioned in his introduction, while one later page refers to 40 years previously so this would have been written in the late 1950s. There is a note on the final pages of this memoir stating that this section was written in 1965. However, there is such detail and a clear memory of all that happened that some of it was probably written much earlier, and/or notes were used. You can see a scanned photo album of all 90+pages of the diary on the page: 2nd Lt C G Hooke - At War. Immediately below are the scanned pages of Chapter 1. Click on each image to enlarge it. Below that is a full transcript with additional images to illustrate the text. The diary deals in most detail with the events of 1916/17. You can then read his letters home which were written in the second half of 1917 and 1918.
Cyril Hooke War Diary Chapter 1
FULL TRANSCRIPT
Battles in which I took part
The Battle of Arras 1917
1st Battle of the Scarpe 1917 (April 9-14)
2nd Battle of the Scarpe 1917 (April 23-24)
3rd Battle of the Scarpe 1917 (May 3-4)
Battle of Bullecourt 1917 (May 3-17)
The Battle of Messines 1917 (after the advance)
The Battle of Ypres 1917 (on the flank of main operations)
2nd Battle of Bapaume 1918
Battle of Havrincourt
Battle of the Selle
Introduction
At the time when I was a cadet at Woolwich (1916) the training was a very short duration, and in some cases boys leaving school for Woolwich became, in six months, officers in the BEF. I well remember my pleasure at seeing my name amongst those posted to France, although of course no indication was given as to what part of the line I should be or to what division I should belong.
After about 10 days leave from 23rd of November I went for four days to Larkhill, Salisbury plain, where I saw a little of a colossal training centre and its wretchedness, for no other word can describe it. Mud and rain outside and comfortless huts in which to live, fortunately all of us were so filled with one purpose that discomforts were to a great extent ignored. We knew that we had got to rough it and being young and new to it I rather revelled in it.
Since then I have learnt to be comfortable when possible. Three days at home and on December 16 I entrained at Waterloo, sailed from Southampton the same night and arrived at Havre next morning. Havre! The very thought makes me feel cold with its ----- (left blank) but here my introduction ends, let me warm myself under the Indian sun before I begin chapter 1.
THE DEPLOYMENT OF THE BRITISH EXPEDITIONARY FORCE TO FRANCE, AUGUST-OCTOBER 1914 (Q 51472) Soldiers of the British Expeditionary Force arrive in Le Havre, France, on 16 August 1914 following the outbreak of war. Copyright: © IWM. Original Source: http://www.iwm.org.uk/collections/item/object/205022525. Reproduced under IWM Non-commercial licence.
Chapter I Finding my Battery – Richebourg – Locon & Aire
Many were the complaints of the troops of the misery of the camp at Havre and indeed the few hours I spent there make me believe that these could not be excessive. Sleeping in tents, with snow outside is never very pleasant and when it is necessary to break one's washing water in the morning one feels that home is a better place. Of course I was in luxury comparative to the troops, who were packed together like sheep. However, I received my tin hat, box respirator and helmet at this camp so I have good reason to be grateful, for these were invaluable comrades in times to follow. On the night of the 18th I drove off with Todd, Lumby, Wood and Martin to the station, where we were loaded with an absurd quantity of biscuits, cheese, jam etc. for at this period rations were usually in excess of requirements, and much was thrown away. The journey to Rouen was uneventful and my impressions of that place, where I stayed one night, are confined to the Cathedral, chocolate and cakes, and the hotel boys "cadging" for tips.
On resuming the journey I felt pretty cold and miserable all next night owing to a window pane in the carriage being deficient. I remember passing Frévent, but it was nearly midday I think before we reached Boucque-maison and enjoyed a shave and wash in the waiting room and got some biscuits and French beer in the muddy village. Here we learnt that the 37th division was on the march northward having taken part in the Battle of Ancre, and had passed by a day or two previously
Note: Béthune needs little description to those who have fought in France. My memories include the railway station and estaminet opposite where I lunched with a Canadian fellow - the officers rest hut - a good haircutting place - a tea shop with "some" girls and a piano in the square and church shelled by long-range guns and the Officers Clothing Ordnance. The town had the reputation of being one of the most immoral on the front (if not in the world) - that was my impression at the time. It was merely the effect of war.
Up we went to Béthune, anticipating the arrival, and after two nights there the road train took me to Lestiem, where the Divisional HQ were stationed in a Château. There I met Captain Airey who gave me "the old Pauline" to read, I lunched with the Padre (what was his name? I met him later) and the gas officer, Miller, I believe. (Corrected later - D'O de Miller was a staff officer not a gas officer)
That night, with the help of the police, I sorted out the men of a draft who were all in different estaminets and took them on a motor bus down to Haverskerque and reported to Col (left blank - presumably forgotten) of 37th Divisional Ammunition Column (D.A.C.) His adjutant, Nottingham, was the brother of a school friend, the orderly officer was Martin. The colonel kindly lent me his spare camp bed and I was very comfortable that night. The only figure I have forgotten to mention was the doctor, but as I only remember him as a Scotsman, very close and very fond of whisky whom I hardly ever encountered again - he does not figure prominently in my experiences.
Next day I was sent to No. 3 section, where amidst whisky and port resided a red faced Chown; Sullivan famous for vulgar limericks, and Hugonin, who came from "the shop" and therefore enjoyed them.
Mud is my chief recollection of Haverskerque, the ever busy factory in Lillers direction, and the enormous quantity of liquid refreshment consumed at Christmas. Chown might have given me a better horse than he did (he gave me his own) to go to Hingis for pay, for the wretched thing stumbled there, cast a shoe, was reshod and stumbled back. Unfortunately, I lost myself coming back, but helped Sullivan to pay out next day.
I remember one night visiting the lines finding a horse with his leg cleanly broken below the hock by a kick, but perfectly happy and enjoying his food. Hugonin shot him, after leading him away from the lines. The lines were in a narrow road with deep ditches each side. One section had a mule drowned by falling in the ditch. The conditions were most miserable for the animals, it was easy to see that the horses felt it far more than the mules, hardy little brutes, who always looked well.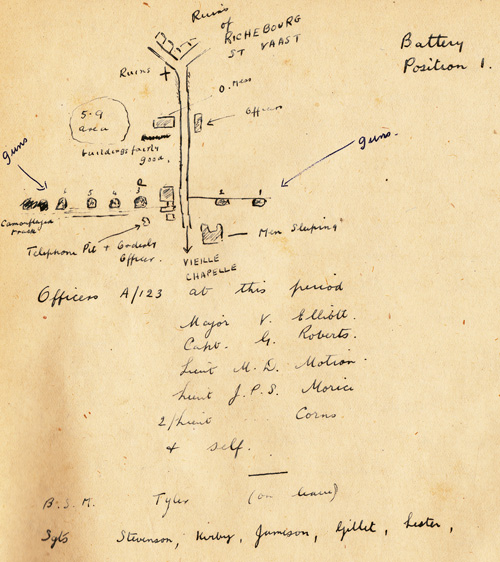 An interview with Tom Cubitt, (who commanded 23rd Brigade R.F.A) with Sullivan, we both had the breeze up before this large foulmouthed man, who was however in no bad mood that morning, then the march to Paradis, while the Brigades went into action in the Neuve Chapelle area. The following day I rode to Locon where 123 Brigade HQ were situated, changed horses and grooms with John Willy (left blank - presumably forgotten) and joined A/123 near Richebourg St Vaast.
The first officers I met were Major Elliot and Plunkett, who properly belonged to C/123 but, this battery being out of the line, he was assisting A/123 who were short of officers. I think it was next morning that Plunkett took me to the Factory O.P. at Richebourg l'Avoué, and I looked in at the cemetery on the way of those who died at Neuve Chappelle in 1915.
Note: Plunkett was a very good fellow indeed. It was with great regret that I heard that he had perished on Messines Ridge with most of the officers of C Battery. A 5.9 landed on the mess and killed them instantly I expect. Whilst trying to get them out another shell landed on exactly the same spot. The funeral service was read under fire early in the morning. This was July 1917.
One hole in a hat, which hung on a cross, told of the snipers bullet, new graves were being made. The factory had been blown to pieces leaving machinery and bricks and "duds", but one tower remained in which the unfortunate F.O.O. (Forward Observing Officer) had to sit for the length of a cold January day. To arrive in position one climbed a ladder on the wall, through the ceiling, and proceeding along a short passage, climbed again and pushed through a trap door into a little chamber with a seat and loop hole. An excellent view of our own troops behind their barricades was obtainable, the Piunque Rue, Lorgies, Bois de Biez (where the great slaughter took place at Neuve Chappelle) and other minor points such as the "buckfields" "the moving tree" (a supplement dummy O.P.) the brewery and large tanks, and the Ferme where Corns imagined and reported that he saw the smoke rising from the cigarette of a Bosche.
Richebourg St Vaast was absolutely France (Cyril later added: or Belgium?) as depicted by Bavins father, portions of buildings and Tommy in a balaclava helmet and tin hat, absurd little dugouts made out of remnants of houses in mud, barbed wire and corrugated iron.
When I arrived at the O.P., the infantry were just lighting their fires; having just come from the Ancre this part of the line seemed so quiet that they dispensed with precautions. It was a curious meeting with a school contemporary when I saw Martin climbing over piles of bricks. He was glad to get relieved having been on the job several days.
The Moorhen O.P. was connected by a very bad trench to the Factory O.P. and at this former I was introduced to my first 5.9 which, one day when I sat looking through the loophole, burst just outside the building throwing up clouds of brick. We were shelled a little at the battery, but I was very kindly introduced to the war, this being without question the most peaceful position.
Owing to holes (not made by mice) the mess was very draughty and an exceedingly good fire warmed the immediate circle only. Rats were a terrible pest in this district and shooting them with a revolver was quite a sport, the trenches were full of them.
I spent 10 days in Locon at the divisional school, and there first met Maj Duthie, and later Gen Williams. Pilkington, Clarke, Succult, Martin and Hugonin were all there. Clemence was adjutant and work began 9.00am in the farmyard where there was scarcely room for a hen to lay an egg, and certainly no room to lay a gun! Madamoiselle Juliette and her sister, whose fiancé was a prisoner, brightened our evenings. With the lamp turned down we would sit in a circle round the table and take it in turns (first English then the two girls) to sing a song. Monsieur and Madame dozed in the corner. Vieille Chapelle was not a very thrilling place. I remember the ruined old church and the canal and the cafe nearby where gentle little Alice served us with a good dinner. I never had opportunity to see how Vieille Chapelle or Locon fared during 1918 when they were overrun by the Bosch. The Portuguese (Pork and beans) do not appear to have performed very creditably but British cavalry fought hard by the canal at Vieille Chapelle. I hope the good people I met were amongst the more fortunate.
Note: Major Duthie I had the pleasure of meeting again at Quitta 1920, where, as Colonel Duthie, he commanded the School of Gunnery.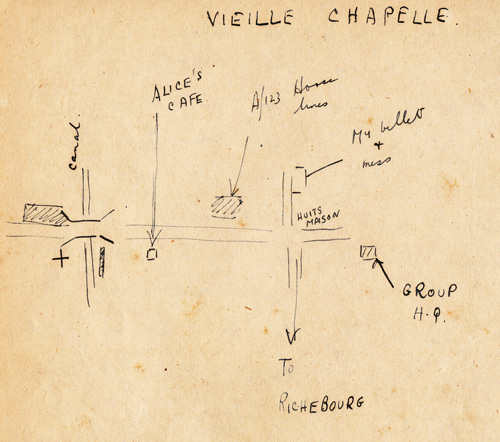 When we returned to our wagon line at Vieille Chapelle the weather was intensely cold and the ditches at the sides of the road were frozen hard. The horses were happy in their coats (unclipped and with rugs) and in good standings, when I left for Aire to do one month's training at first Army Artillery School.
At Aire I met the Canadians, for on this particular course most of the gunners came from their Corps. The"Winkle Man" gave us Pip Toe; Haig came and glanced at our G.D., we played rugger and soccer and went to Church in the riding school on Sunday, as part of a compact with the sporting little padre, who did his best to make us comfortable. Aucult, Pilkington, Clarke and some others, whom I had met before were there. The former, who was getting onto middle age and had a wife and kiddies, seem to have had the last of his nerves and cheerfulness removed when on the Ancre, and shortly after joined the D.A.C. he had a fresh horse which he was riding one day and as he was frightened of the brute I changed horses. Unfortunately, the nag bolted with me some little time later and I did a goodish 6 mile gallop, and quite a good deal of it on cobbles, round the cathedral without a hat! I did not come off this horse. I took him back in a very tired condition. Next day the commandant spoke to us all and reminded us that the horses of the battery must be treated with discretion.
Note: Clarke I met once again carrying a candle in the Hindenburg line tunnel near Fontain lez Crossselles. Pilkington was a great fellow belonging to A/124, I pulled with him in June near Frévent and later he was severely gassed on Messines when in charge of two forward guns. A stout lad.
Note: Aire is a typical little French town. The cathedral was interesting, otherwise I remember little else but the usual estaminets. We did driving drill (as drivers) riding school, gun drill and P.T.
The "Pork & Beans" who arrived in France with guns, but without breech blocks, with horses (and good ones) but without food for them, were much in evidence in the estaminets. Judging by what I saw and heard of them I should imagine they were the sloppiest army "out of the line" and the most cowardly "in the line" of any on the face of the earth. They treated their excellent horses and mules abominably. The latter were pulled by means of an attachment from the neck collar to the pole and entirely without the use of traces. The last evening of our stay we had a goodly "binge" and concert inviting the "Pork and beans". They gave us an orchestral item "en masse" and, of one villainous looking rascal, I heard a voice in the audience say, "By jove, I bet he's had an evil life."
After their effort one of their number made a rotten speech in a sort of English (not so rotten as ours would have been in Portuguese!) and ended by saying "And what I say is "three cheers for England" at which all the ruffians said, "Hurray! Hurray! Hurray!"
I enjoyed my walks around Aire and was sorry that on the concert night I had to ride off to my battery, which passing near Aire was halted for the night at ? (left blank - presumably forgotten)
I was riding with Pilkington, Rind my groom being with P's groom behind. My horse shied and bolted on hearing the whistle of a railway engine and P's horse jumped a ditch into a ploughed field. This was about midnight at the end of February.
Continued: War Diary Chapter 2
Return: 2nd Lt C G Hooke - At War