Oakdens of Lee House, Waterhouses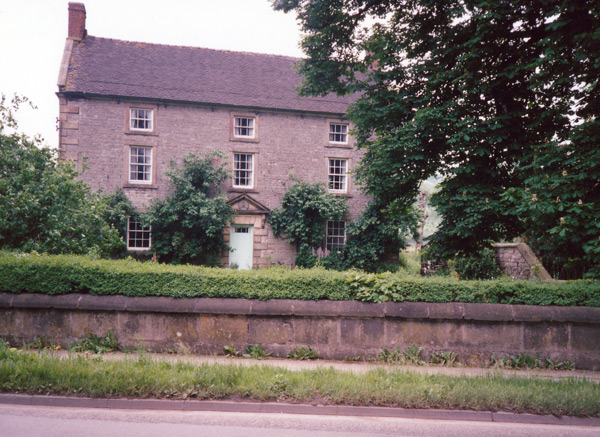 We have been able to research Oakdens (and Okedens) in our family tree back to 1603. The first interesting details emerge with Roger Oakden (b1639 at Waterfall) who inherited Under the Lowe Farm, Waterhouses and in 1680 bought more land and moved to Cauldon where he married Ann Harris in 1665. He was the church warden in 1675 and was buried there in 1708. Roger was quite wealthy. He had three brothers: Philip, Simon (~1646-1742) and Ralph (1677-1730). Ralph married late in life. His daughter Anne died in 1724, aged 2, and when he died in 1730 his son Ralph was only 2 years old.
This son, Ralph, was the man who built Lee House in 1759 (Photo right taken in 1991). At some unspecified time he took possession of Under the Lowe farm from Roger, his elder brother (factual uncertainty???). John Hooke (my uncle who did much of this research) suggested that it is a possibility that he inherited it from his uncles, Philip and Simon, who were both mentioned in his father's will (1830) as being "my loving brothers".
Ralph married Mary Goodwin of Ashbourne. She was 10 or 11 years younger than Ralph. They continued to live at Under the Lowe Farm until he had built Lee House (1759) Their first child Ellen was born that same year and the following year twin boys: Ralph and Richard. Tragically, Mary died that year (1760), either in giving birth to the twins or possibly through suicide.
Lee House became the family home of our branch of Oakdens from that time onwards. Ralph remarried in 1761 - Sarah Gould, daughter of John Gould of the Field House, Warslow. She died in 1779 after giving birth to eight or nine children. Ralph went on to live at Lee House until his death in 1808 when he was buried in Cauldon where, according to John Hooke, my uncle, "henceforth the family burying place was to be including John Gould Oakden, Roger and Mary were buried"
One of Ralph's twin sons, Ralph (1760-1860) went on to be Ralph of Ladham Wood House, Goudhurst where he was buried. The village of Goudhurst became the Oakden family home during the 19th Century and the story of Ladham Wood House and Ladham House will be told on another page. Neither Ralph or his twin, Roger (1760-1809) or his sister Ellen (1759-1836) ever married. This lack of suitable suitors or whatever other reason may have been the cause of their single state, continued with the unmarried sons of his second wife, Sarah: John Gould Oakden (1762-1830), Thomas (1766-1835) and Roger (1773-1822) - all born at Lee House. Daughters, Anne, Mary and Hannah, possibly a Sarah, were also born. Finally a son, William (1777-1809) did marry - Elizabeth Mather and had three sons: Ralph, John and William. He was the progenitor of the Oakden side of my family being my (Graham Hooke) great great great great grandfather - 6 generations back. Anne also married - a vicar, Humphrey Maysmoor - but I have no record of whether they had children.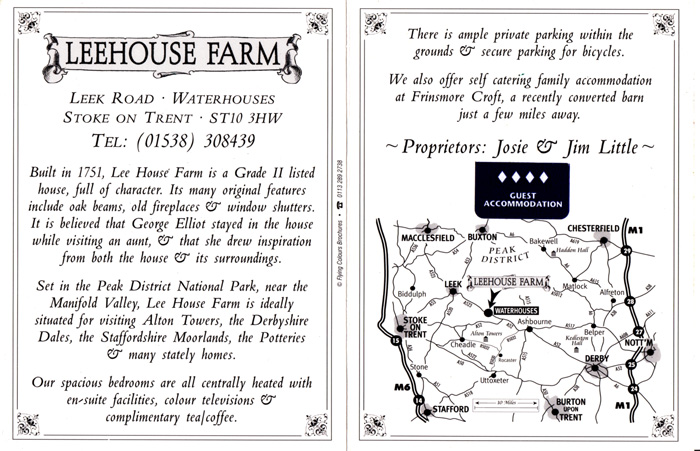 My Uncle John Hooke and Grandmother Elaine Hooke did considerable research on Lee House and its history and visited it in June and September 1991. At this stage it had become a guest house as well as being a Grade 2 listed building (date discrepancy: 1751 or 1759). The owners, who I presume were Josie and Jim Little as referred to as the Proprietors on the back of the postcard shown here, kindly allowed them to view the interior of the house and take photos. You can see these photos along with other photos of the village of Waterhouses circa 1991 in the following photo album.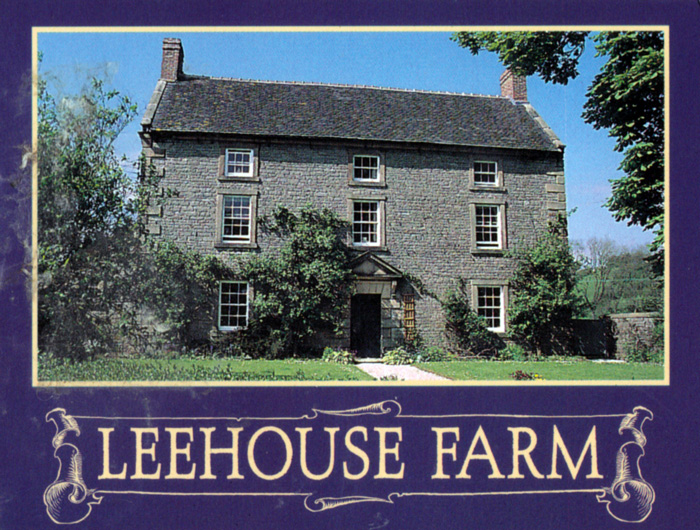 Lee House, Waterhouses, Photo Album
(click on a photo to enlarge and then use the arrows to cycle through the album)
Back to: Oakden Family Trees
Back to: Introduction to the Oakdens