Oakdens of Lee House, Waterhouses
We have been able to research Oakdens (and Okedens) in our family tree back to the 16th century. The first direct ancestor (11 generations back) who I have knowledge of is Edmund Okeden (1570-1642). At the age of 32 Edmund became the incumbent of St James & St Bartholomew Church, Waterfall (see photos below) and served the local community in that capacity for 40 years, dying in post in 1642. He was buried at Waterfall, as was his son William (1614-1694) though I have not found their gravestones.
Along with some of my family, I recently (Sep 2021) stayed at Lee House Farm Cottage. On the first day we walked to Waterfall and back as part of our ancestry research. Here are three collections of photographs, the first of St James & Bartholomew Church and other locations around Waterfall, including a map of the area.(Note that the OS Map - red triangle, top right - marks Lee House Farm Cottage simply as Lee House).
The second set shows photographs of our wonderful accommodation at Lee House Farm Cottage - not to be confused with Lee House Farm below! The cottage is located a mile and a half off the main road along the Manifold Way, an old railway track which is now used by walkers, cyclists and riders. The third set of photos shows something of the beauty of this valley as my daughter Lydia, sister Wendy and I cycled the 8 mile length of the track.
(Click on each photo to enlarge.)
Waterfall
Lee House Farm Cottage
The Manifold Way
Edmund's grandson, Roger Oakden (1639-1696) inherited Under the Lowe Farm, Waterhouses and in 1680 he bought more land and moved to Cauldon where he married Ann Harris in 1665. He was the church warden in 1675 and was buried there. Roger was quite wealthy. He had three sons: Philip (1668-1741), Simon (1674-1741) and Ralph (1677-1730). The youngest, Ralph, married Ellen in 1719 when he was in his 40s. A daughter Anne died in 1724, aged 2, and when Ralph himself died in 1730 he left a son also named Ralph, aged 2, and a new born son Roger. Another daughter, Helen died the same year as her father, 1730.
His son, Ralph (1727-1808) was the man who built Lee House Farm in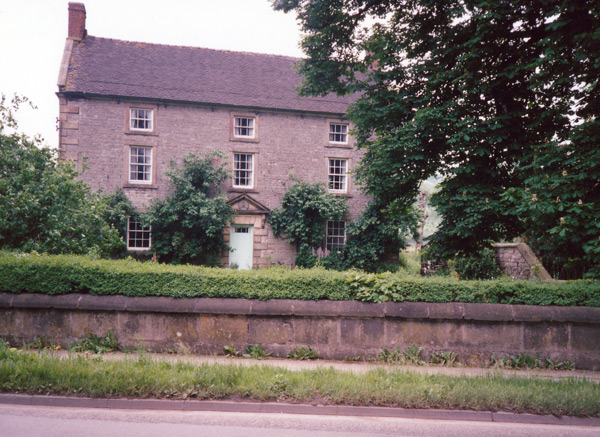 1751 (Photo right taken in 1991). At some unspecified time he took possession of Under the Lowe farm, possibly from his father, Roger. John Hooke (my uncle who did much of this research) suggested that he may have have inherited it from his uncles, Philip and Simon, who were both mentioned in his father's will in 1830 as being "my loving brothers".
Ralph married Mary Goodwin of Ashbourne. She was 10 or 11 years younger than Ralph. They continued to live at Under the Lowe Farm until he had built Lee House Farm (1751) Their first child Ellen was born in 1759 and the following year twin boys: Ralph and Richard. Tragically, Mary died that year (1760), probably in giving birth to the twins.
Ralph remarried in November 1761. Sarah Gould, daughter of John Gould of the Field House, Warslow, became his second wife and a mother for his babies. The Goulds were a very significant Derbyshire family, related to both the Bateman and the Sleigh families, with a direct line of my family ancestry taking us back as far as the 14th century. More details will be provided on another page (Photos of a Field House Farm near Warslow below - click to enlarge)
The Speedwell Mine Disaster
Ralph Oakden was then afflicted by a further double tragedy - the loss of his wealth and the loss of his second wife, both events being connected. Sarah died in 1779 after giving birth to eight or nine children over the previous 18 years. The story is told that she committed suicide in the kitchen of Lee House Farm after her husband's financial venture hit the rocks. Ralph had been the senior partner of a group of Staffordshire investors who had put significant sums of money into the Speedwell Lead Mine in Derbyshire in 1771. In fact Speedwell began life known as "Oakden's Level" before becoming known as Navigation Mine. The Speedwell Cavern Guide Book. (click on the right edge of the right hand page to flip through the pages):
(Author: Dr Trevor D. Ford, publisher: Speedwell Cavern Ltd, design & production: Trilogy Design Communications Ltd) records that the company working the mine was Ralph Oakden & Partners of Stafford. Ralph clearly had most to gain - and most to lose by this ground-breaking (in every sense!) venture. The total investment was in the region of £14,000, a huge sum, with returns of only £3,000.
Oakden's Level was a quite remarkable venture, in which Ralph Oakden' company sought to apply some of the new techniques of the Industrial Revolution after the manner of the Duke of Bridgewater's coal mines at Worsley, near Manchester. There, 20 years earlier, James Brindley engineered a canal tunnel system directly from the working faces to join with the surface canal system. This system cut the price of coal significantly. The Duke's manager at Worsley was Gilbert who also directed operations at Oakden's Level. It was an attempt to apply the same technique of underground canal haulage to lead mining, possibly with a view to linking with a surface canal in the future. The attempt failed only because of insuffient lead ore to make the project pay.
Today the mine is known today as the Speedwell Cavern, and is a notable tourist attraction. It is thought to have been named after a tavern by that name on the challenging coaching road up Winnats Pass. It continues to attract thousands of visitors who pay £16 (adults - 2021)for a 35 minute guided tour in groups of up to 20, throughout the year. It's USP is that the only way of entering it is by boat, unique to all British show caves. A staircase of 105 steps leads down to an artificial water-filled tunnel. This is the access to the caverns and boats were originally propelled along it by a guide pushing the wall on either side. Today boats with electric motors are used.
Visitors have included Queen Victoria, Paul Newman, John Noakes for Blue Peter (1976) and the cast of Coronation Street (June 1964) amongst many other notable figures. Here is a collection of photos of the location today (September 2021) along with some photos of the small museum housed in the ticket office.
The mine did not actually close until 1790 although there were further attempts later to make a success of it. As I researched the story of Sarah's suicide I was puzzled at the date discrepancy of her death in 1779 and the year the mine apparently failed in 1790. There is some uncertainty about how long mining took place but a total of 11 years is referred to in contemporary books. Even by the time mining ceased, whether in 1790 or earlier, tourists were already being taken round whilst work progressed. In 1779 Ralph Oakden produced a detailed plan of the mine. The previous year, 1778, miners first cut through to a vast, open chamber known as the Bottomless Pit - 100m high with a 20m high waterfall. This Pit was a known feature and the tunnel was carefully driven to intersect it and the Stream Cavern at planned depths to facilitate the canal method. It was not, however, the kind of breakthrough that all involved were hoping for.
Perhaps this was the last straw for Sarah who had probably been party to the investment from her own family wealth. It was clear by then that the mine was not yielding the rich beds of ore and financial returns expected and "Bottomless Pit" is probably as good a name for the financial investment as for the spectacular chamber!
Here is an extract about Speedwell, written in 1789, from A View Of The Present State Of Derbyshire - James Pilkington, 1789
The entrance into the caverns and subterraneous passages, which I shall attempt to describe, is about four or five hundred yards west of Peak's hole. It is by means of a shaft fifty yards deep, which was sunk about 30 years ago with a view of pursuing a vein of lead ore. At the bottom of a small passage formed by the hand and about fourteen yards long, leads to a cavern, in height about ten yards, and in diameter fourteen. When the miner first broke into it, it appeared beautiful beyond description. Upon introducing his candle thro' the hole, which he had made, he was struck with astonishment. But when he entered the cavern, it in beauty exceeded his highest expectations. The roof and sides were covered with water-icle, almost as white as snow. But now it is in a great measure stripped of this ornament by those, who have passed through it.
This photograph of the entrance to the Speedwell Mine at Winnats Pass near Castleton was taken in 1902. Reprinted with permission. © picturethepast.org.uk. Click on the photograph for a link to the Picture the Past website and more information about the Speedwell Cavern.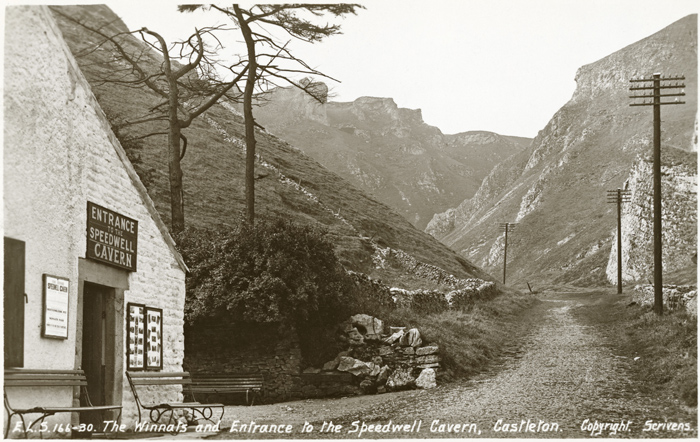 In 1977 Francis Alice Harvey wrote an extraordinarily detailed and comprehensive history of the Waterfall area, its residents and farms dating back to the earliest times. My Granny and Uncle corresponded with her at about the time of their visits to Waterfall in 1991 by which time she was very frail and her husband was in care. However she was still delighted and willing to be a source of information for anyone who was interested in the area and provided my family with some fascination information.
You can read a couple of pages from her book by clicking on the following links where she describes some of the history of Lee House Farm and Under the Low Farm. There is an inaccuracy in her description of Under the Low Farm as she states that Ralph Oakden lived here with his first wife Mary and her children in 1783. This was not possible as Mary had died in 1760.
Lee House became the family home of our branch of Oakdens from that time onwards for nearly a century. Ralph continued to live at Lee House Farm until his death in 1808 when he was buried in Cauldon where, according to John Hooke, my uncle, "henceforth the family burying place was to be including John Gould Oakden, Roger and Mary were buried"
One of Ralph's twin sons, Ralph (1760-1860) went on to be Ralph of Ladham Wood House, Goudhurst where he was buried. The village of Goudhurst became the Oakden family home during the 19th Century and the story of Ladham Wood House and Ladham House will be told on another page. Neither Ralph or his twin, Roger (1760-1809) or his sister Ellen (1759-1836) ever married. This lack of suitable suitors, or whatever other reason may have been the reason for their singleness, continued with the unmarried sons of his second wife, Sarah: John Gould Oakden (1762-1830), Thomas (1766-1835) and Roger (1773-1822) - all born at Lee House. Daughters, Anne, Mary and Hannah, possibly another Sarah, were also born. Finally a son, William (1777-1809) married Elizabeth Mather and had three sons: Ralph, John and William. He was the next progenitor of the Oakden side of my family, being my great great great great grandfather - 6 generations back. Anne also married - a vicar, Humphrey Maysmoor - but I have no record of whether they had children.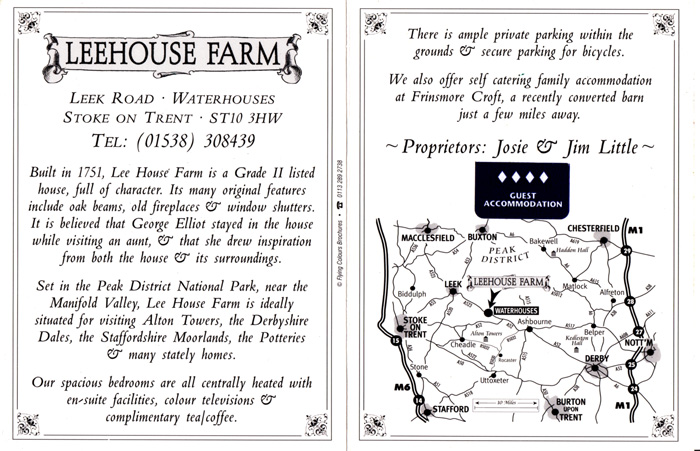 My Uncle John Oakden Hooke and Grandmother Elaine Hooke did considerable research on Lee House Farm and its history and visited it in June and September 1991. At this stage it had become a guest house as well as being a Grade 2 listed building (date discrepancy:1751 or 1759 - an inscription on a stone at one gable end confirms 1751 is the correct date. The owners at the time, Josie and Jim Little, referred to as the Proprietors on the back of the postcard shown here, kindly allowed them to view the interior of the house and take photos. You can see these photos along with other photos of the village of Waterhouses circa 1991 in the following photo album.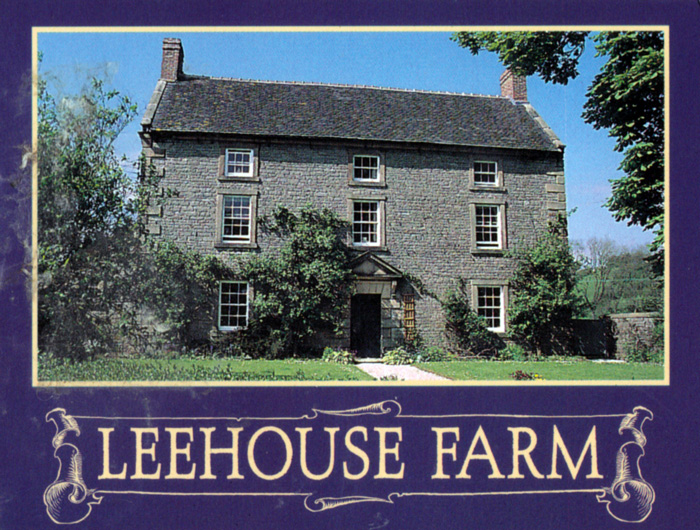 Lee House Farm, Waterhouses, Photo Album
(click on a photo to enlarge and then use the arrows to cycle through the album)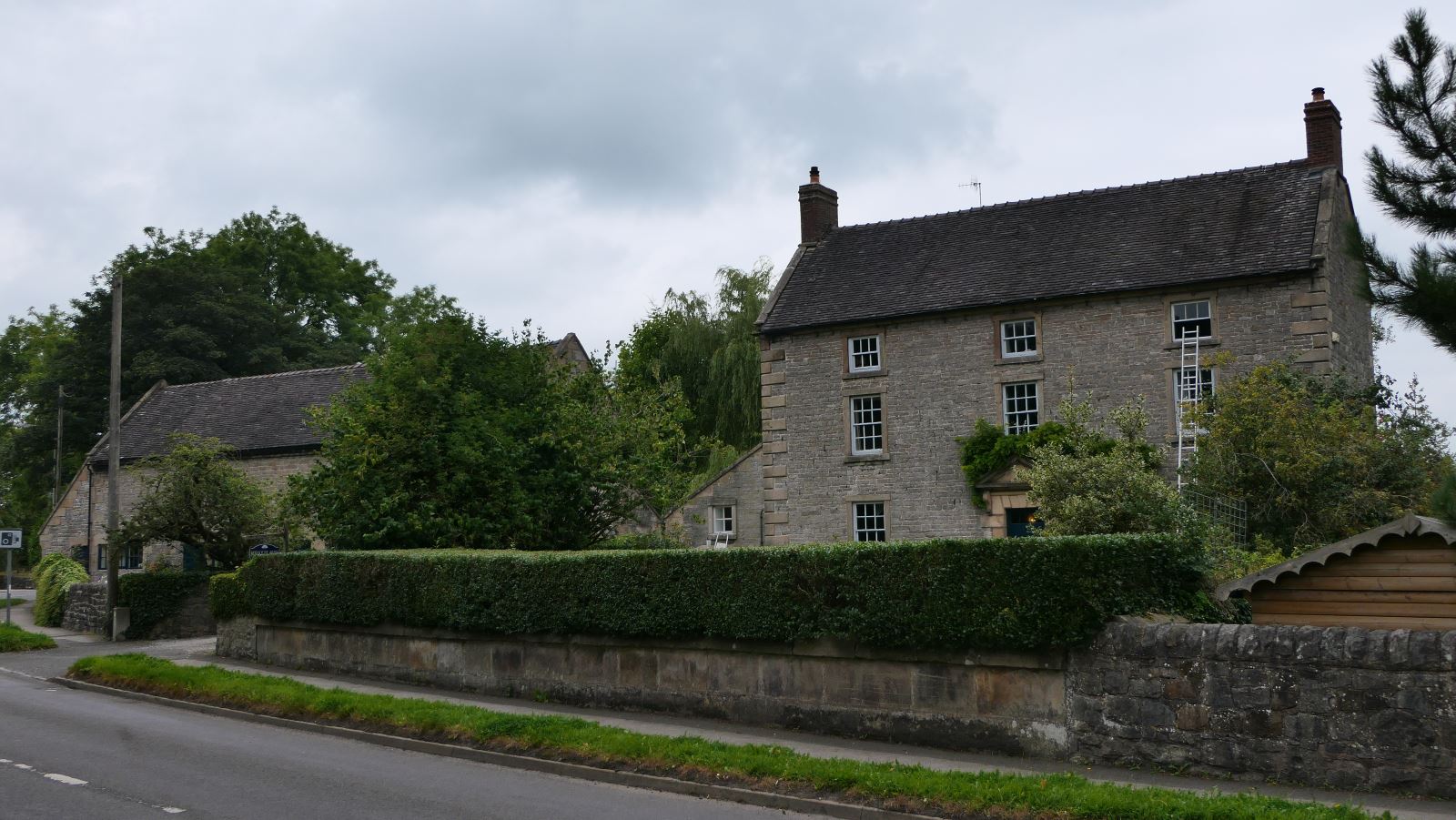 Thirrty years after my Granny Hooke (ne Oakden and my Uncle John Oakden Hooke had made the visit described above, I visited the area as described in the opening paragraph, along with my wife, Ruth and one of my sisters, Wendy (September 2021), staying at Lee House Farm Cottage. This property is to be distinguished from Lee House Farm; it may well have been part of the original farm estate but we were unable to determine the actual link on our visit.
Lee House Farm is no longer a guest house and the ownership has changed. We tentatively knocked on the front door, and the owner, Karl, who was busy with renovations of the property, listened patiently to our story as we showed him my Granny's photos. His daughters were immediately able to identify their bedrooms and Karl very kindly invited us in to look around and see some of the wonderful, ancient features of a property which they have clearly come to love. It was very kind of them to give us the time.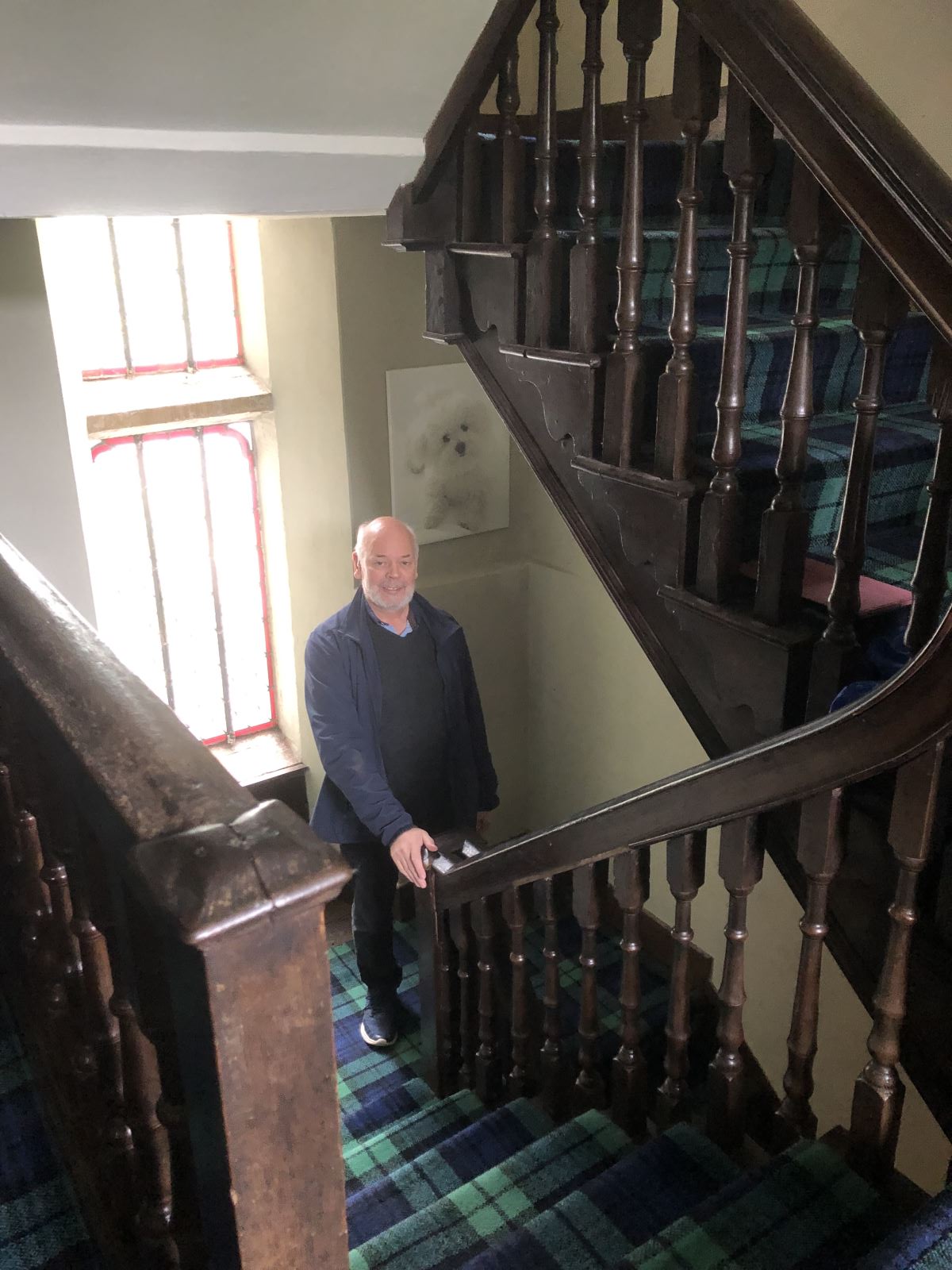 Here is a photo of me standing on the stairs in the same place as you can see that my Granny did 30 years ago in the selection of photographs above. Here too is a photo of the stone just under the eaves, marking the construction date of 1751.
Finally, below, is a selection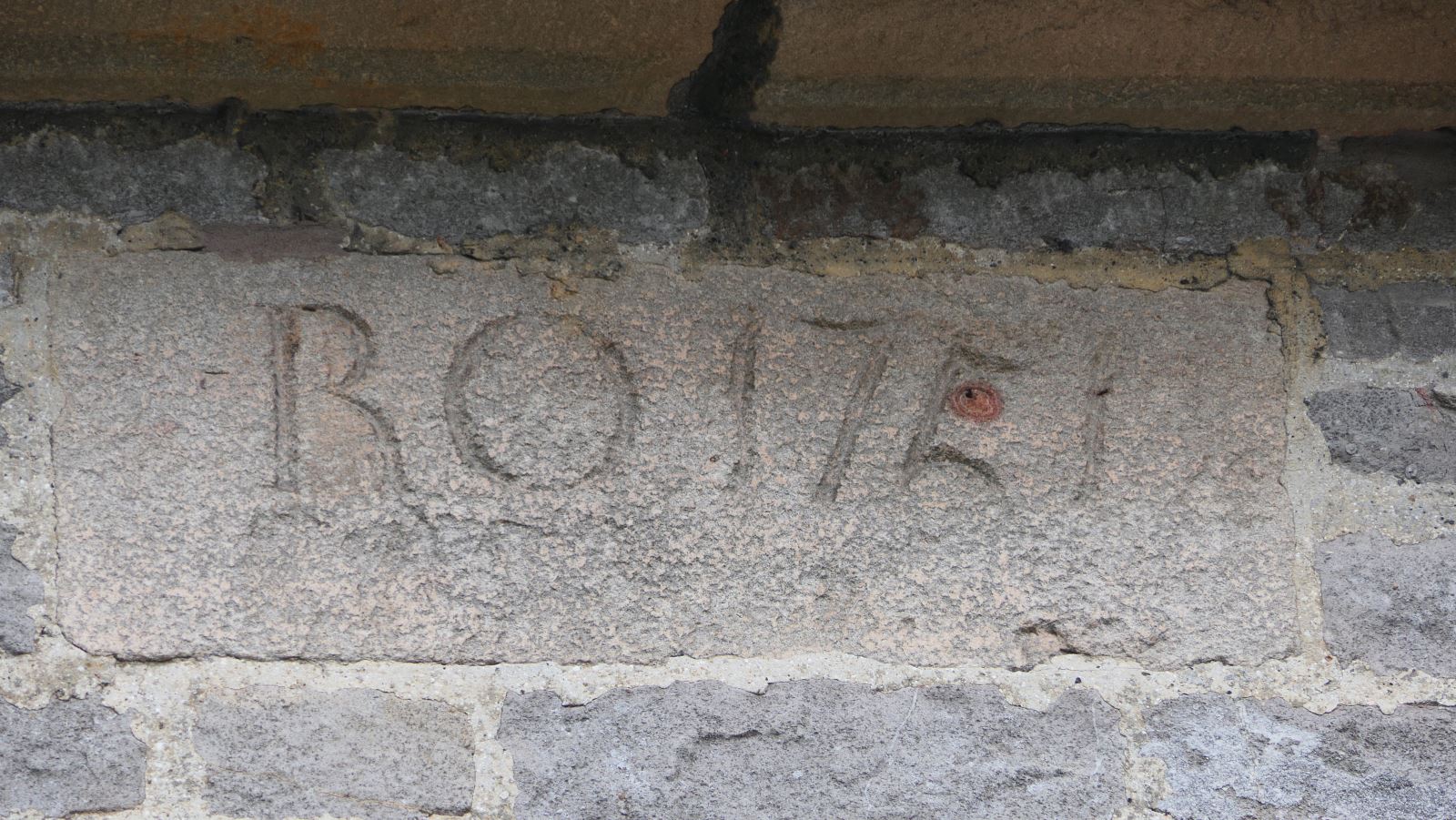 of the some of the other photos we took on our visit. They include a photo of an original glass pane inscribed as follows:
Oakden
11th squiggle
28 --------
We're not quite sure what these numbers and squiggles mean!
There is also a photo of four steps leading to nowhere! Karl explained that these stone steps were built to assist you in mounting your horse.
(Click on a single photo to enlarge and then use the arrow keys to scroll forwards or backwards in sequential order)
Back to: Oakden Family Trees
Back to: Introduction to the Oakdens