George A Hooke Letters 1913 January - March
26 Jan 1913
Dear Trixie,
Just a hurried note. We are all well and delighted with your bright letters. We are very busy with work and pleasure. Francis and Ella must tell you of their outings with your mother.
Your Auntie Aggie came to tea so that I do not feel quite free. She is working overtime at office until Thursday week and does not reach home until about 9:20pm and we only see her on Sundays.
Do you know anything yet about your volume for presentation to St Paul's School library?
How you offer money? I will send a £1 next week but do not hesitate to let me know directly you need any, if it does arrive before.
We have had mild weather and much wet until yesterday when it turned over a new leaf. Yesterday and today have been bright and dry and consequently colder but not serious. We shall get it yet.
Our vicar devoted half of his sermon this morning to an idea I touched upon in the January Magazine - the apparent failure but real triumph of many lives. I felt flattered.
Another week I will try to get my letter in advance during the week. I might have done so yesterday but was rather rushed with other matters before the evening was over and did not do all I wanted.
Your aunt Maria has had another nasty attack of bronchitis.
With dearest love
your affectionate father
GeoaHooke
30th January 1913
Dear Trixie,
I enclose 30/-and suggest that you should send your 7/-contribution by means of a postal order. You will have to pay a penny for it and you should write on it the name of the person to whom it is to be paid and the name of the post office where it is to be paid. If you are sending to strangers it is sometimes advisable to cross the order like one does a cheque
// &Co
and then it is payable only through a bank and if it goes wrong it can be traced and recovered. But for small amounts we do not usually care to give the trouble of paying the order into a bank. It is no trouble to tradesmen, - they pay in almost every day.
I shall hope to hear your health continues good hand that your work and your cocoas agree with you. We had to 3 bright days about last Sunday - then returned to rainy mild weather, - and today it has got cold again. The Sun however more than repays.
Cyril and I have been up at seven working before breakfast every morning. His algebra and trig: are rather difficult and though I can help a little, he wants even more. Still he finds it encouraging to have someone to discuss his difficulties with and I shall help him up to revision which is the most important factor.
Francis was later at her social last evening.
Ella and your mother have kept to the usual quiet routine.
Did you mean that 3/6 was charged for blacking the bike in addition to 2/6 for cleaning and storage? I should not have had it done. We could have put on enough black in 10 minutes at a cost of a few pence. But never mind. Learn by experience.
Fondest love
Your affectionate father
GeoaHooke
2nd Feb 1913
Dear Trixie,
it is usual for us to confirm to the proverbial English custom of talking of the weather and the rapid passage of time. As I wrote a few days ago it is not surprising that the well worn topics occur to me most naturally. To date this letter February strikes me forcibly that the New Year flies as quickly as the old ones and then, looking out of the window, I noticed the rain falling as it did so freely last year.
Francis has just gone to Sunday school but Cyril has abandoned the idea of going to the Crusaders. I had intended taking your mother out but the rain was too bad. I wonder how it is affecting my daughters who have gone away and left me! I hope they did not suffer this morning. I shall be curious to know whether you have it much colder at Cambridge than we get it here.
This has been a quiet working week so that I have not much to tell.
Mr Williams preached his last sermon at St Mary's this morning. He has left Huran Rd and I understand Mr Johnson is taking the flat. Mrs Heath is forming a working party for Lent and has asked your mother to assist which of course she does with some deprecating remarks to me.
It will be delightful for you if Mildred can come and see you for Commem: but I should think the journey would be rather expensive.
Are you still thinking of taking science for your second and third years at Cambridge?
We shall be interested to know how you get on with your time papers.
Sir Walter Howell, (photo right) - a man who entered the civil service by a similar exam to mine but seven months later, became Assistant Secretary Board of Trade died suddenly of angina pectoris (heart disease) last Wednesday. I had tea with him about six weeks ago and when he told me he was a bachelor I thought to myself I did not envy him with all his luxurious surroundings.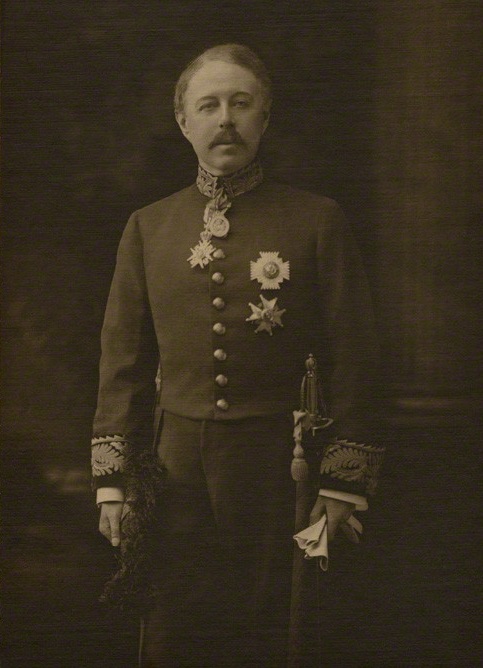 I suppose you do not get much time for reading fiction or news. The picture papers help one to keep up with the times quickest but I prefer to read a good article, or a good letter, or a good debate. The debate on Woman's Suffrage I sent to Mildred. I wish the militants would behave themselves. If you are in favour of votes for women you need not trouble much as votes would not make much difference, - certainly not as much as they think.
Now with dearest love
Your very affectionate father
Geoa Hooke
9th Feb 1913
Dear Trixie
I was very interested in your doings and understood them better when I saw the notice of the doings at Cambridge given in the Church Times. That you were disappointed with Bishop Gore I can quite understand. He is supposed to write better than he can speak. When I heard him I thought him rather tedious with regard to Suffrage for women. You know I am in favour of giving some of them votes but I am not enthusiastic and should not be ready for any sacrifice at the present time. After you have had greater experience you will hesitate about yielding to one side until you have heard all that can be said on the other. Mildred has been converted very slowly and reluctantly and consequently has deeper roots than if she had adopted the ideas very readily.
I don't often drop on your spelling but I may tell you Gymkhana is one word and has an h.
My view on Parliament and voting and laws is this - In cases of need people have to be convinced of the need for a change. If they are not convinced it does not matter who votes the laws won'tbe made and even if they were made they would only create opposition, - they would not work, - they would not be obeyed.
When people are convinced again it does not matter much who votes, the alteration is soon made if it works. But apart from that is no reason why a woman who pays taxes should not vote. One even might admit that in the case of man and wife they pay equal shares. But bringing in all the poorest and greatly increasing the electorate by adding all undesirables is not to my mind. What is to be gained?
Of course I should like to see degrees of the legal profession thrown open to women so that they might have a chance.
But don't let this interfere much with your Maths.
I wonder whether your weather has been like ours, mostly very wet and mild. Yesterday was exceptional, excellent, charming, dry, balmy, brilliant sunshine; but wet again today.
Cyril is not much at letter writing. He continues to rise early although was not very good last week. He had a good turn with the Scouts yesterday felling trees in some grounds belonging to Mr Carmichael.
Last Tuesday at the Whist Drive low scores were made by your mother, me, Francis & Uncle Stalker but Aunty Stalker took first prize. She got a lovely scent case or box. The Stalkers are coming for the evening tomorrow.
(NB. Uncle Stalker is probably Alfred Stalker, a local preacher, and the father of Lavinia and Winifred Stalker, sisters who both became wives to George's elder brother, Henry. Lavinia died in 1911 leaving Henry with two children to care for. He married Winifred in 1915 and fathered further children in his 60s!)
When do your .....? commence? - The first week in March? You will be able to get Mildred to help you with difficulties if she comes on the 22nd. I think she will.
Ella is having a contest for the Gym team that day & I have been wondering whether I will go. Francis says she will write to you during this week. You know Sunday is a busy day for her.
We are all well.
Do you want more money yet? Let me know when you do. Aunt Maria came over to tea with Aggie this afternoon & brought a picture of Grandma enlarged from the group. It is good when thoroughly examined but the veil spoils the first glance.
Aunt Maria says she is allright now. She will come to stay for a time next Saturday.
We are delighted when we hear you are in good health. Take great care of my precious daughter, and bring her home safely in a few week's time.
With very dearest love
Yr affectionate father
GeoaHooke
23rd Feb 1913
Dear Trixie
I was about to commence by writing that your great time had passed but I remember you have a great many times at Newnham. However one happy time has gone and I hope you will have many more in store.
Next Saturday a party is coming down and I expect Aunties Aggie & Maria. Your mother and Ella will be in the party. They are due to arrive at Cambridge at 12.40 and will go to the centre by tram and have lunch. You will have to decide whether you will meet them at the Station and lunch with them or meet them afterwards. Mildred took me to a very nice place where we had table d'hote I think for 1/6. Perhaps you would find out about it beforehand and also whether there is a Lyons or any similar place where they can obtain cheaper refreshments if they desire them. Then you will want a programme ready. They will want to see the Chapel at Kings and had better proceed there immediately as Aggie will be at the Chess Board from 3 until about 6pm.
I suppose you can entertain three at tea in your room and it will be well to have preparations made in the morning. I will send a sovereign about Tuesday and your mother shall bring more when she comes.
I suppose it will not interfere unduly with your studies as you ought to have a rest just before an exam. However if you decide you ought not to give up the time let us know at once so that we can arrange accordingly. I am not certain when they will return but probably about 7 when you go to dinner.
They must do all their sightseeing about the town between 1.30 and 4.30, and they will then be quite ready for rest and a cup of tea. You can then show them your college Grounds about 5.30.
Now for our record. Ella will have told you of her success yesterday. I must admit I sympathise with Godolphin. They did everything so well it was hard for them to lose. But they took it very nicely. It was a great pleasure for your mother and me to witness the display.
Last Wednesday Francis' concert was fairly successful in music & attendance. Aggie gave her that day a gold (rest of this letter is missing)
28th Feb 1913
Dear Trixie
It was very delightful to have happy letters from you and Mildred this morning. They were the best of birthday presents in themselves. I am sure you know how glad I am to have your loving thoughts. Your puzzle tomorrow will be how to make the best of the time between 12.40 and 6.40. I think they (Mother, Ella etc) should take tram or bus into centre, go to lunch, then on to Kings' by way of such places as occur to you. Then gradually meander by way of the backs to College to tea.
Aggie has to be at the Boar's Head at 3pm to play Chess & may not be free until about 6. I think she ought to leave Newnham College until then but if she wishes to see it by daylight you must leave your mother & Aunt Maria somewhere whilst you take Aggie to and over the College.
You will however be able to discuss matters at lunch.
I can only hope you may have sunshine. Best wishes for the Exam next week and for a safe arrival home. Your mother brings more money. She & I are just going to Brondesbury for the evening.
with dearest love
Yr affectionate father
GeoaHooke
2nd March 1913
Dear Trixie
The enclosed catalogue came here some days ago addressed to you and Ella might have brought it yesterday. Anyhow it is no use here and it may be to you.
We were rather surprised last evening to see the travallers back home again so soon but very glad to hear such a good account of you. I hope the exam: this week will not kill you, - that you will not be very anxious about the result. It is only preparation for May or June. Have you decided what to do with your bicycle? There would be some advantage in bringing it up so that we could take it to pieces & thoroughly examine it & put anything right, but if you are only home for a month it is just questionable whether it is worth the trouble and expense. Do just as you like but let me know beforehand so that I can arrange accordingly.
I am hesitating what to write as I suppose you heard everything yesterday.
Mrs Balding is still laid up and has a touch of bronchitis but she has been assured that an operation for her other disorder is unnecessary.
I expect you know your mother and I went to the Revell's on Thursday and to Buff's on Friday.
With regard to my Easter birthday present I have written to MIldred to tell her I shall not care to leave home when you and she are here but later a trip to Cambridge and Warwick would be delightful where our treasure is &
Now I will wish you goodnight, - and that you may speedily pass your week's work and return to a haven of rest.
with dearest love
Yr affectionate father
GeoaHooke
(beginning of letter missing)
bracelet in commemoration of her 21st birthday. It is very handsome and she is very delighted.
I got very fagged twoards the end of the week and have not kept up the early rising with Cyril very well. We get some teasing Maths and shall be very glad of your assistance. He could go forward much more rapidly with a good coach. I hope you will take him on when you return although he is an awkward customer.
Ella keeps herself exclsuivelty to herself although I am sure she would do much better if she would talk about the history she is reading. It would help her to fix it in her mind. Both she and Cyril seem fairly well in health just now. The latter is keen on scouting and chopped down a tree yesterday.
Aunt Maria has a nasty cough through not taking proper care after washing her hair.
Roy Bennett has gone to Nottingham to work.
The new curate arrives tomorrow.
Your mother has been busy in trying to arrange for a home for her half-sister Polly & has found some difficulty but we shall surmount it.
It is shockingly late (11.20) so I must wish you Good Night and God bless you.
Very dearest love
Yr affectionate father
GeoaHooke
NEXT Letters 1913 April to June